Bank Holiday Brunch Stack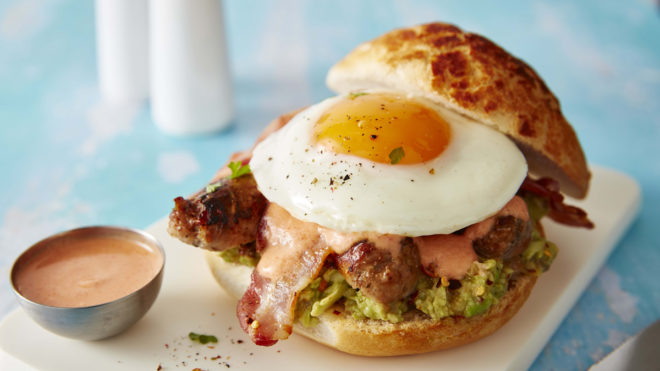 2 servings
10 Mins to prepare
Ingredients
2 tiger rolls (our freshly baked in store ones are best!)
4 rashers of bacon
2 eggs
4 sausages
1 avocado
1 pinch chilli flakes
1 lime
4 tbsp natural yoghurt
4 tbsp Sriracha sauce
Fresh parsley to garnish
Instructions
1 Mix the Sriracha  and yogurt together in a bowl and set to one side.
2 Prepare the avocado by cutting in half and carefully removing the stone. Scoop out the flesh into a bowl, squeeze in the lime and add a good pinch of the chilli flakes, then mash with a fork. Season to taste and set to one side.
3 Heat the grill to high and place the sausages on a grill pan. 7 minutes before the sausages are cooked add the bacon and grill until both are cooked through.
(See recommended grilling instructions on packaging.)
4 Heat the oil in a frying pan and fry the eggs sunny side up.
5 Split the tiger rolls in half. Add the smashed avocado and then the sausage, bacon and egg. Finish with the Sriracha yogurt. Garnish with parsley.
6 Serve with extra pots of smashed avocado and the Sriracha yogurt.
CHEFS TIP To keep everything hot until ready to stack, place the sausages and bacon on a pre-heated plate and cover with foil.