Ben's Yorkshire Orchards: Toad-In-The-Hole with a Twist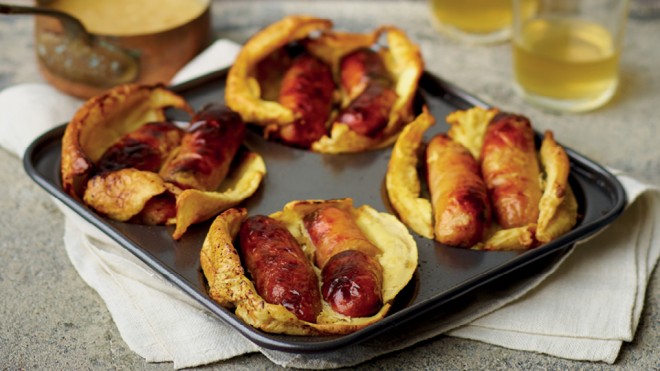 6 servings
50 Minutes to prepare
Ingredients
For the Orchards
150g plain flour
4 eggs
300ml cider
1-2tbsp oil
2x6 pack Booths pork and apple sausages
For the Sauce
5/6 small shallots, chopped
1tbsp butter
350ml cider
300ml hot chicken stock
2tbsp Booths Apple Sauce
1tbsp cornflour, mixed with water until smooth
Instructions
Bradford born Ben Cunningham from our Media City store says: "I like to beer batter everything I can and then one day I thought I should give it a go with cider.  Yorkshire puddings are one of the things I grew up eating and I love toad-in-the-hole, so pairing pork and apple sausages with cider seemed like the logical thing to do."
1 Preheat the oven temperature to 220°C / gas mark 7.
2 In a bowl, mix together the flour and eggs, then add the cider and whisk until smooth.
3 Divide the oil between large 6 Yorkshire pudding tins and heat in the oven for 5-10 minutes.
4 Add the sausages to the tins, 2 sausages per tin, and brown for 5-10 minutes. Pour batter into each tin with the sausages and cook in the oven for 20-25 minutes until risen and browned. Serve with roast potatoes, vegetables and 'Mummeee' Rogers Chunky Cider Apple Sauce, which you can prepare while the orchards bake.
'Mummeee' Rogers Chunky Apple Cider Sauce
Hannah Rogers, who is part of Booths marketing team, says: "When visiting my parents I'll always put in a request for pork just so that I can smother it in this moreish sauce."
1 Heat the butter in a pan on a low heat. Add the shallots and cook for 5 minutes until soft, without browning.
2 Add the cider to the pan, bring to the boil then simmer for 10 minutes, to allow the cider to reduce.
3 Add the hot chicken stock and bring to the boil. Cover and simmer for 8 minutes, before stirring through the apple sauce and cornflour.