Smoky Pear Old Fashioned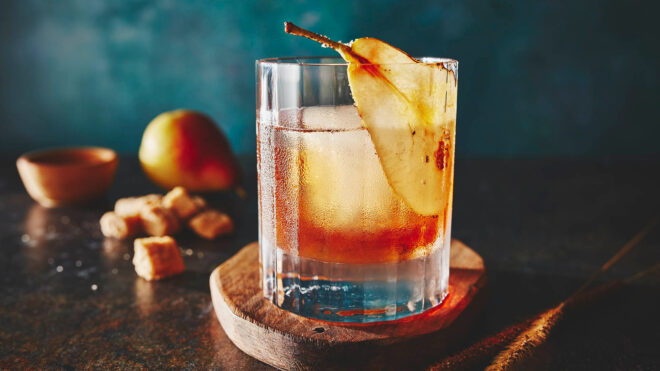 2 servings
10 minutes to prepare
Ingredients
2 thin slices of pear covered with a sprinkle of Demerara sugar
2 Demerara sugar cubes
4 dashes Angostura bitters
25ml Kopparberg Premium pear cider
2x double measures The one fine blend Whisky (The Lakes Distillery)
Large square ice cube mould
Instructions
Method:
1. Grill the slices of sugar covered pear until golden and allow to cool.
2. In two whiskey tumblers place 1 sugar cube, 2 dashes of Angostura bitters and a splash of pear cider in each glass.
3. Crush down the sugar cube with a cocktail muddler and rotate the glass to coat the in-side with the mix.
4. Add 1 large ice cube, made with your large ice cube mould.
5. Add a double measure of whisky to each glass and then add your caramelised pear slice as a garnish and serve.
Chef's Tip:
To add a smoky element, burn a few BBQ oak chips and place the glass over to impart the fla-vour before making the cocktail.