Beef & Chestnut Pie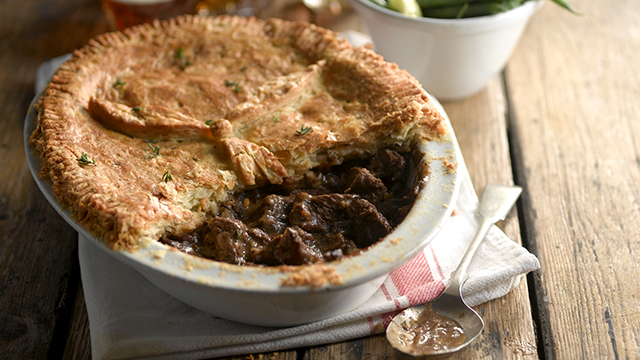 7 servings
210 minutes to prepare
Ingredients
1kg stewing or braising beef, cut into 5cm pieces
2 medium onions, sliced
4 celery sticks, thickly sliced
3 garlic cloves, peeled and finely chopped
200g chestnuts, roughly chopped
500ml good local ale
25g dried porcini mushrooms
300ml boiling water
1 thick strip of orange zest
3 bay leaves
1tsp thyme leaves
3tbsp plain flour
4tbsp sunflower oil
1tsp dark brown sugar
2tbsp chopped fresh parsley
Salt and milled pepper
For the pastry
250g self-raising flour, plus extra for dusting
125g shredded suet
75g finely grated Parmesan cheese
1½tsp thyme leaves
1 large egg
120ml cold water
Instructions
Soak the porcini mushrooms in 300ml of boiling water for 20 minutes. Place the flour into a large bowl and season with salt and milled pepper. Toss the beef into the flour.
Heat a large frying pan over a high heat and brown the beef in 2-3 batches adding oil as you go, transfer the beef to a casserole dish.
Pre-heat the oven to 160°c / gas 3.
Drain the porcini mushrooms and reserve the liquid. In the same pan you browned the beef add a little more oil and cook the onions and celery over a low-medium heat for about 7 minutes, next add the garlic, bay leaves, orange zest, sugar and chopped porcini mushrooms and cook for a few minutes, then add the ale, thyme and mushroom liquid and bring to the boil, season with a teaspoon of salt and plenty of black pepper then pour the mixture over the beef. Pop a lid on the casserole dish and cook in the centre of the oven for 2 ½ hours.
Once removed from the oven add the chestnuts and chopped parsley, transfer the mixture to a pie dish and leave to go cold.
Tip – You can cook the pie filling the day before, once cooled store in an air tight container in the refrigerator.
Pre-heat the oven to 190°c / gas 5.
To make the pastry place the flour, suet, Parmesan and thyme into a bowl. Whisk the egg with 120ml of cold water. Add only enough of the eggy water to bind the dough and reserve the remaining egg mixture. The dough shouldn't be sticky, if it is just add a little more flour.
Tip – The pastry can also be made a day in advance, store in floured cling film in the refrigerator.
On a floured surface roll out the pastry to cover your pie dish, it should be the depth of a £1 coin. Using a rolling pin lift the pastry onto the pie, brush the edge of the dish with a little of the leftover egg mixture then press the pastry firmly around the edge with a fork to seal. Brush the last of the egg over the pastry, make a few steam holes in the lid and bake for 40 minutes until rich and golden brown. Serve hot with your favourite vegetables.