Beetroot and Pomegranate Slaw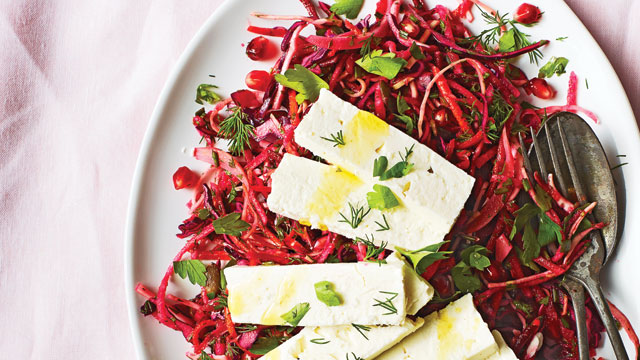 2 servings
10 minutes to prepare
Ingredients
2 medium sized fresh beetroots, freshly shredded
250g red cabbage, finely shredded
250g white cabbage, finely shredded
1 small onion, finely shredded
2 carrots, shredded
15g fresh dill, finely chopped
15g fresh flat-leaf parsley, finely chopped
3 tbsp fresh chives, finely chopped
25g pumpkin seeds, toasted
100g pomegranate seeds
Juice of 2 lemons
1 tbsp Dijon mustard
2 tbsp olive oil
Freshly ground black pepper
To serve cooked bulgur wheat & 125g feta cheese, sliced
Instructions
This is crunchy and refreshing, not a mayonnaise-laden coleslaw. Prepare the vegetables using the shredding attachment on your food processor, or a mandoline.
Preparation time 10 minutes
No cooking needed
1. Mix together all the vegetables, herbs and seeds in a large bowl.
2. In a small bowl or jug mix the lemon juice, mustard and olive oil and pour over the slaw, tossing together well. Season with plenty of ground black pepper.
3. Serve with bulgur wheat and slices of feta.