Biona Organic Vegan Mushroom Spaghetti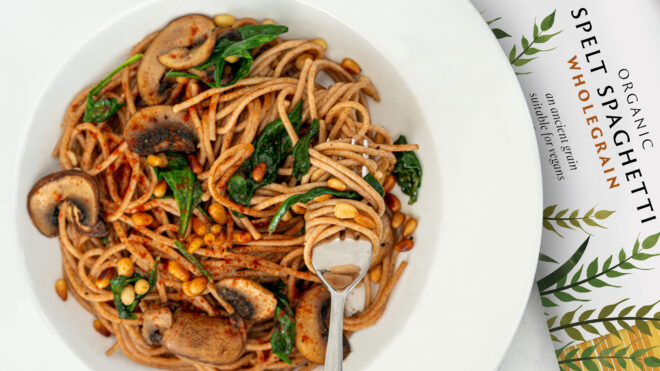 2 servings
15 minutes to prepare
Ingredients
3 tbsp Biona Organic extra virgin olive oil, divided
1-2 garlic cloves, grated
2 tbsp pine nuts, to garnish
300g chestnut mushrooms, cleaned and sliced
Salt and black pepper to taste
1/2 tsp dry thyme
300g Biona Organic spelt wholegrain spaghetti
1 heaped tbsp nutritional yeast
Splash of vegan white wine (optional)
Pinch of chilli flakes
1 heaped tbsp Biona Organic capers, chopped
Instructions
Method:
Put 2 tablespoons of olive oil and grated garlic in a small bowl. Set aside to infuse.
Heat up a large frying pan. Add the pine nuts and toast them on a low heat until lightly browned and fragrant. Make sure you stir them frequently as they tend to burn easily. Once done, remove from the pan and set aside.
Return the pan to the stove, add 1 tablespoon of olive oil and the sliced mushrooms.
Allow the mushrooms to cook and caramelise in places, stirring them from time to time. Season with salt and pepper and dried thyme towards the end of the cooking time. Allow any water that the mushrooms release to cook out.
Take the mushrooms off the pan and add in fresh spinach and a good splash of water. Allow the spinach to wilt, then lift off the pan and chop roughly. Clean the pan for the next step.
Cook the pasta just short of al dente following the instructions on the packet saving 2 tablespoons of cooking water just before you drain your pasta.
When pasta is about to be ready, heat up a frying pan on low heat. Once hot, add in the garlic-infused oil.
Gently cook the garlic for about 2 minutes, stirring the whole time, but do not allow it to brown. If the garlic is sizzling too aggressively, turn the heat off (or take the pan off the heat if not using gas) and allow it to cook in the residual heat.
Add nutritional yeast, a good pinch of salt and splash of white wine (or pasta cooking water you saved) and allow them to cook in with the garlic oil for another minute or so.
Toss the drained pasta in the garlicky oil well, season with salt and sprinkle with chilli flakes if using.
Stir in cooked mushrooms and chopped spinach to heat them both up again.
Divide between two plates, sprinkle with chopped capers and toasted pine nuts. Serve and enjoy!