Booths Coffee Meat Rub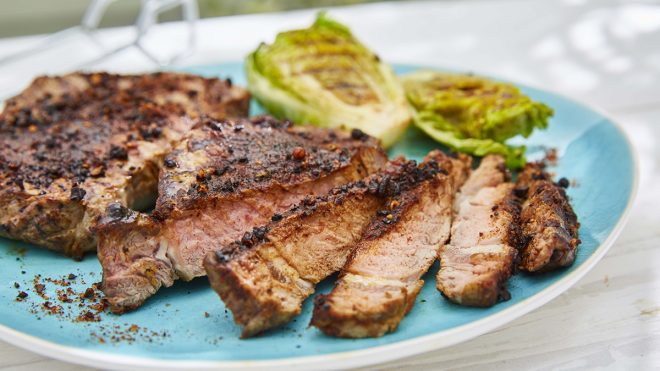 4 servings
5 minutes to prepare
Ingredients
2tbsp Booths black roast coffee beans
2tbsp smoked paprika
2tbsp salt
2tbsp bristol five blend pepper
To serve
A drizzle of olive oil
4 Rib eye steaks
Instructions
This all-purpose coffee meat rub is one of our favourite dry rubs that can be used on just about anything! Earthy and flavourful, our coffee meat rub is a great idea to cook up a delicious treat on the grill and is the perfect way to get you in the mood for BBQ season!
Method
To make the rub, place the coffee beans into a pestle and mortar and grind to a fine powder.
Add the remaining ingredients and grind to a fine powder.
To serve, drizzle the steaks with a little olive oil. Scatter the rub over both sides of the steaks.
Heat a large griddle pan over a high heat and sear the steaks for 3-5 minutes on each side.
Allow the steaks to rest for 5 minutes before serving.
Chef's Tip
This is a perfect rub for summer. Use it on different cuts of steak, salmon and pork. Brilliant for BBQ season. If you don't have a pestle and mortar why not grind your coffee beans in store using the Booths coffee grinding machine?