Cappuccino Cake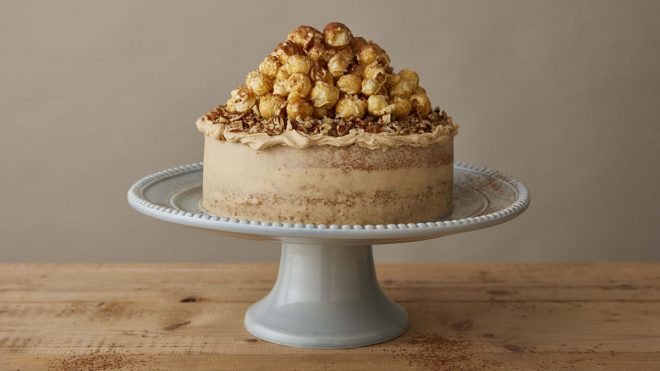 12 servings
30 minutes to cook, 30 minutes to prepare
Ingredients
250g softened butter
250g light, soft brown sugar
300g self raising flour
4 beaten eggs
200ml very strong, cooled coffee
1 large bag toffee popcorn
100g chopped pecans
2tsp cocoa powder
For the Buttercream
250g butter at room temperature
500g icing sugar
2tbsp strong, cooled black coffee
Instructions
A gorgeous show-stopping coffee cake reminiscent of a classic cappuccino.
Method
Preheat the oven 180°c / 356°f / gas mark 4, and grease and line two 8"/20cm cake tins.
Beat the butter and sugar together until pale and creamy. Add the eggs and flour all in one go and keep beating until evenly mixed.
Pour in half of the coffee and mix well.
Spoon the mixture evenly into the tins and bake for 25-30 mins until golden and well risen. When baked, turn out onto cooling racks.
Sweeten the remaining coffee with a little sugar and sprinkle 4 tbsps over the sponges, then leave to cool completely.
Make the buttercream by whisking the butter until light and fluffy, slowly add the icing sugar. Finally, gradually add the coffee and whisk until combined.
Sandwich togther the the two sponges using half of the buttercream, then lightly coat the outside of the cake with the remaining buttercream, adding a 'frilly' edge at the top.
Finely chop the pecans and trail them around the outside edge of the whole cake, just inside your buttercream frill to create the "crema" line of a cappuccino.
Loosely tower the toffee popcorn in the centre and dust with cocoa as you would a cappuccino.
Chefs tip
To take the recipe to the next level, or if your popcorn won't stay put, mix the toffee popcorn with honey or maple syrup.
The very light buttercream coating we're applying to the outside of the cake is called a 'crumb coating.'