Salted Caramel & Coffee Meringue Sandwiches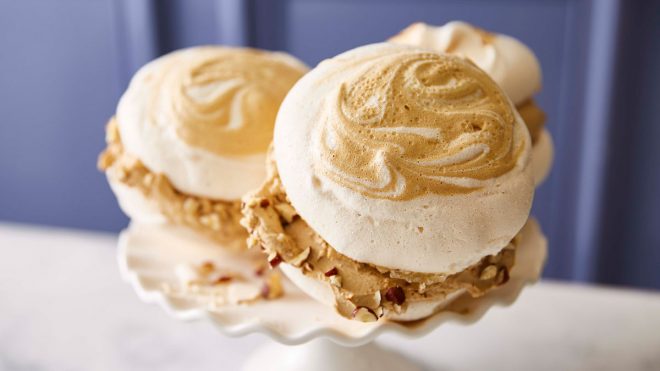 4 servings
5 minutes to prepare
Ingredients
2tbsp espresso coffee powder
300ml whipping cream
300g mascarpone
1tsp vanilla extract
8 salted caramel giant meringues
1tbsp chopped hazelnuts
Instructions
These salted caramel and coffee meringue sandwiches are super easy to make with our giant meringues in store, or feel free to make your own if you prefer.
Method
Mix the espresso coffee powder with 2 tablespoons of boiling water, set aside to cool slightly.
Place the whipping cream, mascarpone, vanilla extract and espresso into a mixing bowl and whisk to stiff peaks.
To serve, sandwich together 2 meringues using a dollop of espresso cream. Repeat to use all of the meringue.
Scatter with chopped hazelnuts, place on a serving platter and enjoy!
 Chefs Tip
To make these even more indulgent add a splash of coffee liqueur. Switch coffee to chocolate by adding 2 tablespoons of chocolate spread in the place of the espresso.