Booths Country Four Cheese Soufflé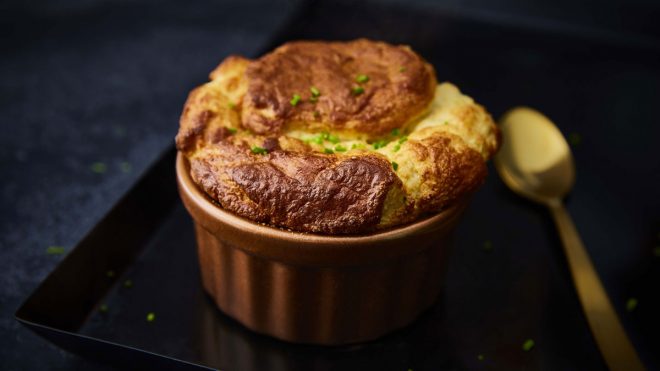 4 servings
30 minutes to prepare
Ingredients
50g flour
50g butter
300ml milk
1 bay leaf
1 clove garlic, crushed
4 eggs, separated
Breadcrumbs & butter to line the dishes
75g Wensleydale cheese, broken into chunks
50g Appleby's cheese, broken into chunks
50g Kidderton Ash Cheese, broken into chunks
75g Blacksticks Blue cheese, broken into chunks
Instructions
A beautiful cheese soufflé that takes a tour in cheese of Booths country, with cheese from Yorkshire, Cheshire, Lancashire and Cumbria in the mix.
Method:
Take 4-6 soufflé dishes (depending on size) line them with butter then breadcrumbs and tap upside down to remove excess crumbs. Pre-heat the oven to 200oC / 180oC fan / gas 6. Gently warm the milk, bay leaf and garlic in a saucepan.
While the milk is warming, over a low heat melt the butter in a saucepan. Once melted add the flour and cook for 2 minutes to form a roux.
Add the warm milk to the roux slowly while whisking to make a smooth béchamel sauce. Remove from the heat and add the cheese into the pan, leaving a couple of chunks for later. If you want, add a dash of Worcestershire sauce to the mix for a little extra flavour.
Once the mix has cooled to almost room temperature add the egg yolks. In a separate bowl, beat the egg whites to form firm peaks. Fold in a third of the whites to the cheese, then add the rest of the whites. Split the mix equally in the soufflé dishes, cook for 12 minutes and serve immediately.