Booths Sourdough Rarebit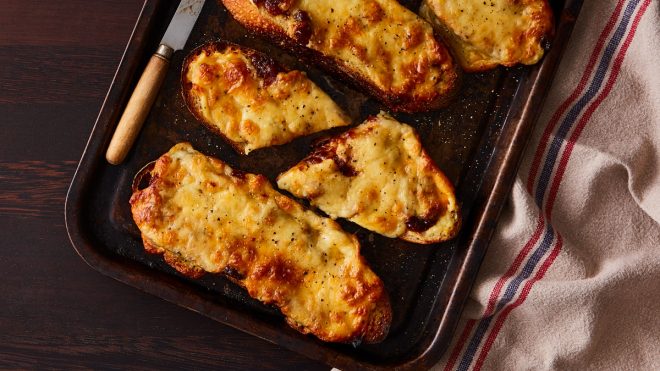 4 servings
10 minutes to prepare
Ingredients
4 slices Bells 1946 sourdough bread
225g grated cheese of choice
1tsp mustard powder
75ml ale
2tbsp flour
1tsp Worcestershire sauce
50g cream cheese
4tbsp chutney
Salt and pepper
Instructions
What's more satisfying on a chillier evening than cheese on toast? Our rarebit mix can be truly made your own by varying the cheese you choose to include, and using a proper sourdough loaf like our Bells 1946 just adds that touch of luxury and extra flavour.
Method
Place the sliced sourdough onto a baking tray. Toast one side of the bread under the grill.
Place the grated cheese, mustard powder, ale, flour and Worcestershire sauce into a small bowl, mix well and season.
Turn the sourdough slices over, toasted side down on the baking tray. Spread the untoasted side with a layer of cream cheese followed by a layer of chutney.
Top with the grated cheese mix.
Return the slices to the grill and grill for 3-5 minutes until golden brown and bubbling.
Chefs Tip
This recipe works perfectly with a bowl of warming soup, why not serve a slice with a hearty French onion soup? Perfect for chilly autumnal lunches.
Wine Match – McGuigan Founders Series Cabernet Sauvignon
Matured in oak with a dark berry character and earthy notes, McGuigan Founders Series Cabernet Sauvignon works well with this recipe. Find it in the Australian reds section.