Breakfast Doughnut Muffins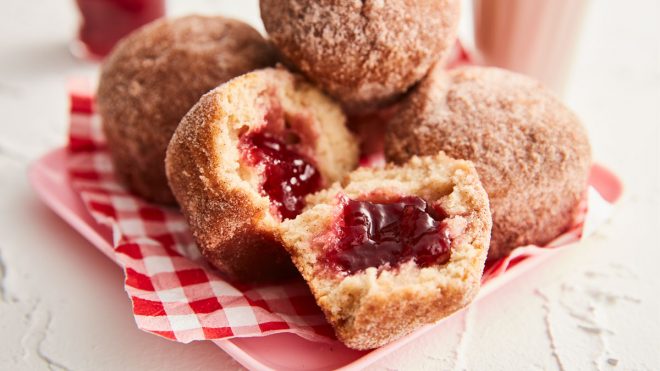 8 servings
35 minutes to prepare
Ingredients
For the muffins
225g plain flour
100g caster sugar
1tsp baking powder
1tsp cinnamon
1tsp vanilla extract
1 egg
125ml milk
80g butter, melted
8tsp raspberry jam
For the topping
75g caster sugar
2tsp cinnamon
50g butter, melted
Instructions
These gorgeous 'doughnut' muffins are a joy as an indulgent breakfast for the kids! Or why not make them for the picnic basket?
Method
Pre-heat the oven to 180°C (fan)/400°F/gas mark 6 and line a muffin tin with 8 muffin cases.
To make the muffins, sift the dry ingredients into a mixing bowl.
Place the vanilla extract, egg, milk and melted butter into a measuring jug a whisk to combine.
Make a well in the dry mix, slowly pour the wet mix into the dry whisking to combine.
Spoon a dessertspoon of muffin mix into each case, top with a teaspoon of raspberry jam and finish with a spoonful of muffin mix to cover.
Bake in a pre-heated oven for 20-25 minutes or until golden brown. To check the muffins are cooked, insert a skewer into the centre, it should come out clean when cooked.
Place the muffins on a cooling rack for 10 minutes.
To make the topping, mix the sugar and cinnamon in a bowl.
Remove the paper cases from each muffin and discard.
Brush each muffin with melted butter and toss in the cinnamon sugar mixture to coat.
Chefs Tip
For a tasty twist on this recipe swap the raspberry jam for lemon curd and swap the cinnamon in the topping for ground cardamom.