Celeriac, Fennel & Apple Salad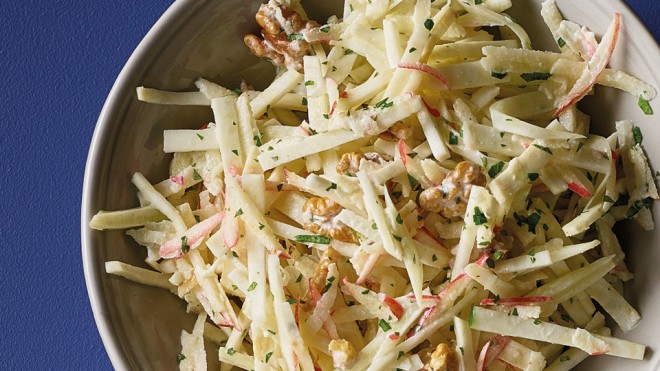 6 servings
20 minutes to prepare
Ingredients
1 small celeriac 550-600g
1 fennel bulb
1 red apple
I large lemon, juice only
150ml creme fraiche
3tbsp good quality mayonnaise
3tbsp flat leaf parsley, finely chopped
50g walnut pieces, toasted
Instructions
This tangy, crunchy salad is the perfect accompaniment to a buffet of ham and cold cuts.
1 Peel the celeriac and cut into 5mm slices, then reduce to matchsticks measuring about 5cm in length; or alternatively, grate in a food processor or by hand using a coarse grater. Repeat with the fennel bulb, and coarsely grate the apple. Place all in a large mixing bowl and toss together well with the lemon juice.
2 Mix together the crème fraîche with the mayonnaise and mustard and stir into the vegetable mixture along with the parsley and walnut pieces then season well to taste.