Chai Tea Rice Pudding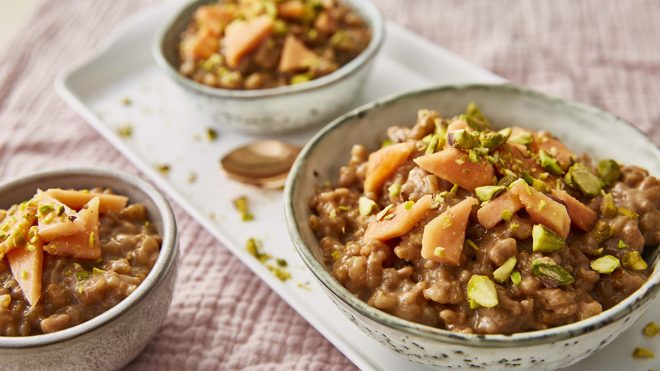 4 servings
55 minutes to prepare
Ingredients
1 litre almond milk
3tbsp Booths loose Chai tea leaves
100g golden caster sugar
100g pudding rice
1 cinnamon stick
To serve
1/2 papaya, sliced
1tbsp pistachio nuts, chopped
Instructions
Our chai tea rice pudding is a delicious twist on a traditional dessert.
Method
Place the almond milk and tea leaves into a saucepan. Place over a medium heat and bring to the boil. Remove from the heat and strain to remove the tea leaves. Discard the tea leaves.
Pour the milk back into the saucepan, add the sugar, pudding rice and cinnamon stick. Bring to the boil, reduce to a simmer and simmer for 45 minutes stirring regularly.
Spoon into serving dishes, and decorate with sliced papaya and chopped pistachio nuts.
Chef's Tip
Swap the tea flavours in this recipe. Why not try using Earl Grey tea leaves and serving with stewed prunes?