Chocolate & Orange Bread & Butter Pudding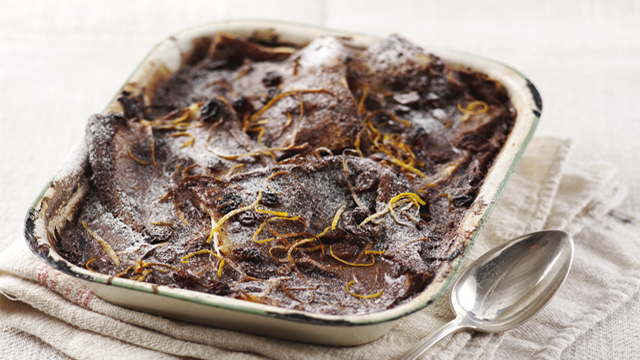 6 servings
50-60 minutes to prepare
Ingredients
1 jar of orange marmalade
50g sultanas
2 oranges finely grated zest
3tbsp brandy (optional)
50g butter, softened
300g white sliced bread, crusts removed
400ml milk
400ml double cream
1tsp vanilla extract
150g plain chocolate, chopped
50g caster sugar
5 egg yolks
Icing sugar (for dusting)
Instructions
Preheat the oven to 180°c / gas 4.
Butter a 2ltr oven-proof dish. Spread the remaining butter on the slices of bread and then spread with the orange marmalade. Place a layer of the bread into the oven dish and scatter over some of the sultanas and a sprinkling of the orange zest. Repeat until all the bread is in the dish.
Place the milk, brandy and cream into a saucepan and slowly bring to a scalding point, but don't boil. Remove from the heat then stir in the chocolate.
Whisk the egg yolks, vanilla and sugar until pale and fluffy, slowly pour in the chocolate milk whisking as you do so. Pour over the bread and leave to soak for 10 minutes. Bake in the centre of the oven for 35-40 minutes until it has just set. Dust with icing sugar and serve with cream or custard.
Try making this recipe with brioche or croissants for a richer flavour.