Crispy Fish Burgers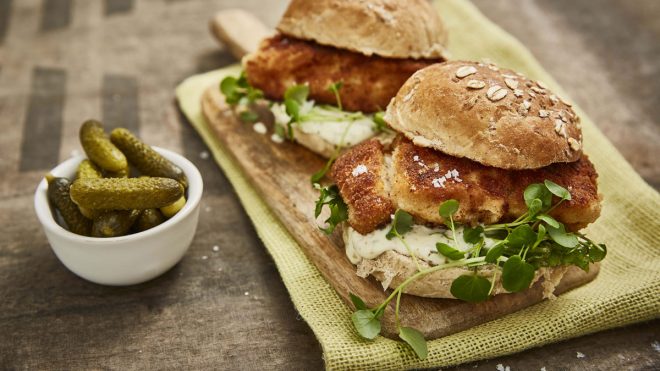 4 servings
20 minutes to prepare
Ingredients
600g white fish fillets
Breadcrumbs
1 egg, lightly beaten
100g flour
60ml vegetable oil
1 jar of tartare sauce, to serve
4 small bread rolls
1 lemon, cut into wedges
1 bag salad
Instructions
Baked or fried these fish burgers are a delicious way to serve fish that kids will love.
Place the flour, eggs and breadcrumbs into 3 separate bowls. Dust the fish with the flour, dip into the egg and press into the crumbs.
Heat 1cm oil in a large frying pan over medium heat. Cook the fish, in batches, for 2–3 minutes, turning halfway, or until the fish is golden and cooked through
OR
Preheat the oven to 200°c / 400°f / gas mark 6. After step one, spray a baking sheet with cooking spray, place the crumbed fish onto it and spray the fish with cooking spray. Pop in the oven and bake for 15 minutes or until the fish is cooked through, turning if needed.
If fried, drain on paper towel. If serving with rolls, spread each with tartare sauce and top with pieces of the fish and some salad. Otherwise, serve with salad and a dollop of tartare sauce. Don't forget the lemon wedges!
Chef's tip
Why not try whipping up your own lighter 'tartare sauce' with some chopped gherkins, capers and fat free fromage frais.