David Morris' Snowberry Cake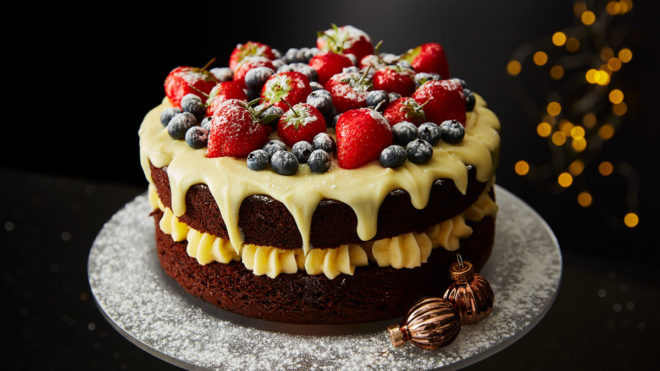 10 servings
2.5 hours, plus cooling time to prepare
Ingredients
For the cake
225g butter
225g milk chocolate
180ml milk
250g plain flour
50g cocoa powder
500g caster sugar
4 eggs
150ml sour cream
White Chocolate Buttercream Filling
110g white chocolate
170g unsalted butter (softened)
375g icing sugar
2tbsp milk
Topping
150ml natural yoghurt
300g white choclate
Mixed berries of choice
Icing sugar
Instructions
Our fruit buyer David has created a moist, rich show stopping masterpiece of a chocolate cake that would grace any festive spread perfectly. He calls it the 'Snowberry' cake.
For The Cake
Preheat Oven 160°c / 320°f / Gas Mark 3. Grease and line a 25.5cm (10″) loose bottomed round cake tin.
Put the butter, chocolate and milk in pan and then gently heat until smooth and glossy.
Sift the flour, baking powder and cocoa powder into a large bowl, then stir in the sugar. In a separate jug, mix the eggs and sour cream, then pour both the chocolate and egg mixtures into the bowl with the flour and whisk well to form a batter.
Pour into the cake tin and bake for about 2 hours, until a skewer inserted into the cake comes out clean.
IMPORTANT – You must allow the cake to cool completely prior to removing from the cake tin.
For The Buttercream Filling
Melt white chocolate carefully.
Beat butter with the icing sugar.
Add the melted chocolate and the milk.
Cut cake horizontally fill with the butter cream.
For The Topping
Melt the white chocolate. Stir in the yoghurt and pour on top of the cake. Top with mixed berries then dust with 'snow' (icing sugar).