Easy Game Casserole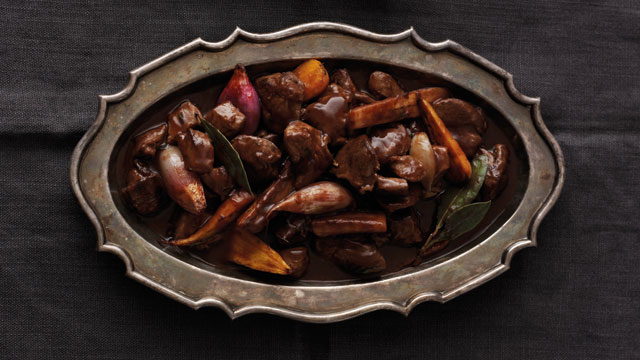 4 servings
205 minutes to prepare
Ingredients
550g mixed game, diced
100g streaky bacon, cut into lardons
350ml full-bodied red wine
300ml beef stock
1 tbsp Worcestershire sauce
1 tbsp tomato puree
2 garlic cloves
2 carrots, peeled and roughly chopped
1 large onion, roughly chopped
1 celery stick, roughly chopped
6 juniper berries, crushed
2 cloves
3 bay leaves
150g chestnut mushrooms, sliced
2tbsp redcurrant jelly
1 tbsp plain flour
3 tbsp olive oil
To serve salt and miled pepper
Instructions
Preheat the oven to 150ºc / gas 2.
1 Toss the game in the flour until completely coated.
2 Add 2 tbsp of the olive oil to the casserole dish and fry the game in batches until it begins to brown. Take the game out of the pan and transfer it to a plate.
3 Without washing the pan, add the last tablespoon of olive oil and fry the bacon until it starts to crisp, then add onion, carrot and celery.
4 Cook for 5 more minutes over a medium heat, until the vegetables begin to brown.
5 Add the juniper, cloves, garlic cloves, bay leaves, mushrooms and meat.
6 Give everything a good stir before pouring in the red wine, Worcestershire sauce, tomato puree and beef stock.
7 Season with a little salt and miled pepper.
8 Bring it to a simmer.
9 Put the lid on and cook in the oven for 2 1/2 – 3 hours, until the meat's tender.
10 Season and stir in the redcurrant jelly before you serve.
Add a little more beef stock if the casserole looks too thick.
For an even richer sauce, try adding a chunk of dark chocolate to the casserole just before you serve.