Fillet of Venison with Roasted Beetroots and a Mixed Vegetable Mash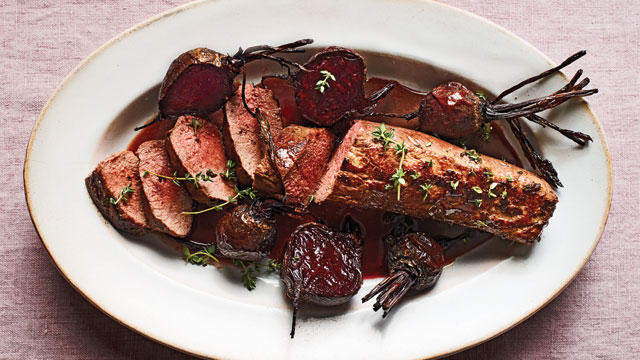 4 servings
60 minutes to prepare
Ingredients
1 tbsp olive oil
A bunch of small beetroots, cleaned
1 fillet of venison, about 900g
4-5 sprigs of fresh thyme
250ml red wine
1 tbsp redcurrant jelly
3 juniper berries, crushed
For the mash
3 large carrots, peeled and chopped
1 small swede, peeled and chopped
2 medium potatoes, peeled and chopped
Instructions
Preparation time 10 minutes
Cooking time 50 minutes
1. Preheat the oven to 200°C/fan 180°C/gas 6. Grease a roasting tray with a little of the olive oil. Put the beetroots on the baking tray and roast for 45 minutes.
2. Meanwhile, to make the mash, put all the vegetables in a large saucepan, cover with cold water and bring to the boil. Simmer for 15 minutes until everything is tender. Drain well, return the pan to the heat, then mash well. Keep warm while you prepare the meat and sauce.
3. Heat a large non-stick frying pan with the remaining olive oil and fry the venison for 3 minutes each side until browned and golden.
4. Keep one sprig of thyme and pick the leaves off the others. Remove the venison from the pan and add to the baking tray with the beetroots and thyme leaves and cook for a final 5 minutes.
5. Put the frying pan back on the hob and heat over a medium heat. Add the wine and bring to a rapid simmer, scraping up any of the cooking juices and bits left on the bottom of the pan. Add the redcurrant jelly, juniper berries and the sprig of thyme and heat through until the jelly has melted and you have a thickened, syrupy sauce. Strain and pour into a serving jug.
6. Carve the venison and serve with the sauce, beetroots and mash.