Frozen Yoghurt Bark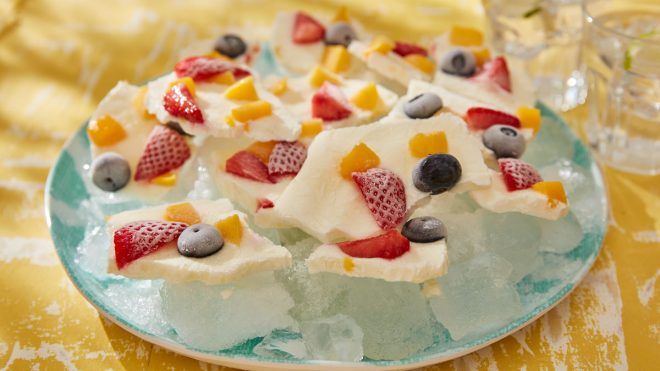 4 servings
2 hours 5 minutes to prepare
Ingredients
500g natural yoghurt
1tbsp honey
50g blueberries
50g strawberries, quartered
50g mango, diced
Instructions
This frozen yoghurt bark is a fun treat for breakfast or even after tea!
Method
Place the yoghurt and honey into a bowl and mix well.
Line a baking tray with baking paper and spoon over the yoghurt mix, spread to approximately 1 cm thick.
Scatter over the prepared fruit and freeze for a minimum of 2 hours or until frozen.
To serve, remove from the freezer and break into shards.
Chefs Tip
You can use any flavour of yoghurt in this recipe. Swap the fruit toppings with the seasons, try blackberries in autumn or use frozen berries out of season. Add some chocolate chips for an indulgent treat!