Good Old Fashioned Carrot Cake with Lemon and Cream Cheese Frosting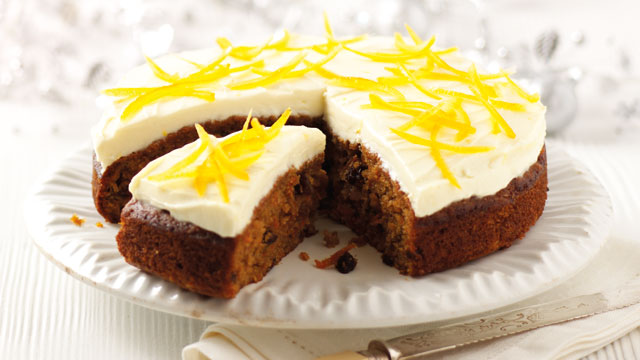 10 servings
65 minutes to prepare
Ingredients
175g light muscovado sugar
175ml sunflower oil
3 large eggs, beaten
150g finely grated carrot
100g raisins
zest one large orange
175g self-raising flour
1 tsp bicarbonate soda
1 tsp ground cinnamon
1/2 tsp freshly grated nutmeg
For the filling
zest and juice one lemon, finely grated
3-4 tbsp icing sugar
1 packet of candied orange pieces
250g full fat cream cheese
Instructions
Lightly grease and line the base and sides of a 20cm cake tin.
Pre-heat your oven to 160 ºc, gas mark 3.
In a large mixing bowl add the sugar, sunflower oil, eggs and orange zest and lightly mix to combine. Stir in the grated carrot and raisins. Mix the flour, bicarbonate of soda, cinnamon and nutmeg, and then sift into the bowl. Lightly mix all the ingredients together. Pour the mixture into your prepared cake tin and bake for 40 minutes until it feels firm and stringy to touch in the centre. Leave to cool for 10 minutes in the tin, then turn out onto a wire rack and leave to cool completely.
Once cooled, make the icing by softening the cream cheese in a bowl. Add the lemon juice and zest and mix together. Stir in the icing sugar 1 tbsp at a time until you have a smooth but relatively thick icing.
Using a palette knife spread the icing all over the top of the cooled cake. Place onto a serving plate and decorate with the candied orange pieces.