Grilled Mojito Cocktail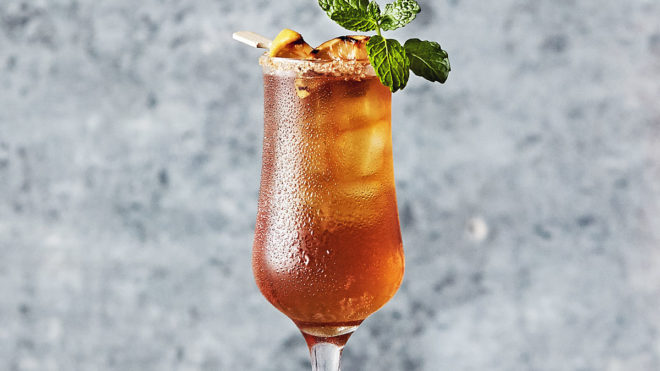 1 servings
5 minutes to prepare
Ingredients
Ice, approx 8 cubes
2.5 grilled limes
30g brown sugar
6 sprigs mint
25ml rum
100ml soda water
To Garnish
Brown sugar to decorate the glass rim
ice
Soda water
Instructions
Grilling the limes adds a real zesty twist to our Mojito cocktail recipe!
Method:
Heat a griddle pan on a medium heat, 1/4 one lime and lightly grill on each side. Keep two 1/4s of lime back for garnish and add the remaining to a cocktail shaker.
Place all the cocktail ingredients into the cocktail shaker with the limes, add a couple of cubes of ice and shake really well.
Wet the rim of your glass, set it upside-down in a shallow bowl or dish containing the brown sugar. Make sure there's enough to coat the entire rim of the glass. Wiggle the glass to cover the wet part of the glass completely. Turn the glass right-side up and add some ice.
Pour the cocktail into the glass, letting the mint from the shaker also drop into the glass.
Top the glass up with a touch of soda water.
Garnish with the grilled limes on cocktail stick and a sprig of fresh mint.
Chefs Tip:
Make it a mocktail – visit our alcohol free version by tapping here.