Hannah Boucher's Chestnut Stuffing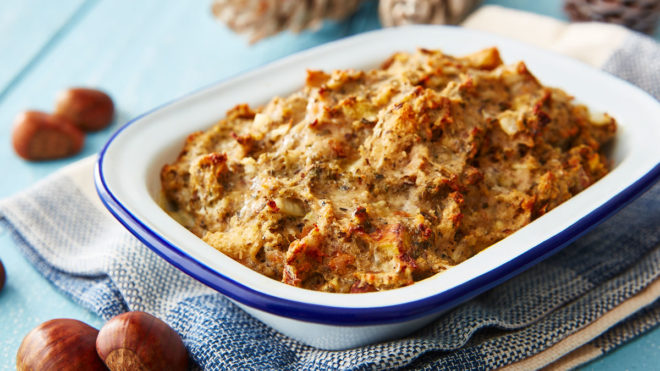 4 servings
1 hour to prepare
Ingredients
400g sausage meat (or I buy Booths sausages and remove the skins. That way you can choose a different flavour for the meat - Victorian work well)
12g dried sage
1 onion, finely chopped
2 slices bread (better if a few days old, but doesn't matter)
1 egg, beaten
180g of cooked, peeled chestnuts, chopped
Salt & pepper
A few dots of Butter to brown the top
Instructions
Our HQ colleague Hannah has shared with us a family favourite for festive chestnut stuffing, passed on to her from her Mum!
Preheat the oven to 200°c / 400°f / gas mark 6. Grease a small baking dish.
Tear up or chop the bread into chunks and add to a mixing bowl.
Mix through the dried sage and other herbs if using. Add just enough hot water to dampen the herbs and bread without drowning them.
Add the sausage meat, onion, egg, chestnuts and seasoning to the bowl. Mix thoroughly (best to get your hands in). You can often feel the texture change as if combines. It may feel slightly thicker and start sticking to your hands.
Pop the stuffing into the prepared baking dish, flatten and run a fork over to create a few lines. Dot butter or equivalent on top. Bake in the oven for 45 minutes until cooked and piping hot.
Tip
Make it the day before, cool, cover and store in the fridge until you're ready to reheat for Christmas Day. Pop in a preheated oven for about half an hour until piping hot all the way though, cover with foil until the last five minutes of reheating time to avoid extra colour and to keep the moisture in.