Pork Meatballs and Courgetti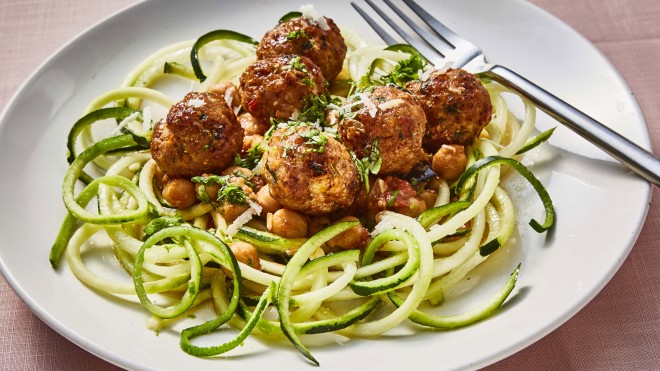 4 servings
50 minutes to prepare
Ingredients
500g pork mince
1 red onion, finely chopped
1 small white onion, finely chopped
4 garlic cloves, finely chopped
1 green chilli, de-seeded and finely chopped
1 small aubergine, cut into small cubes
4 courgettes
100g feta cheese
Small tub of pitted black olives
Olive oil
400g tin chopped tomatoes
400g tin drained chickpeas
250ml vegetable stock
1tsp paprika
1tsp ground cumin
1tsp ground coriander
1/2tsp ground cinnamon
Bunch fresh parsley, chopped
Bunch fresh mint, chopped
Bunch fresh oregano, chopped
Instructions
An update to our Greek Lamb Meatballs recipe with a courgetti twist.
1 For the meatballs, cook 1 red onion and half of the chopped garlic cloves in 1 tbsp of olive oil until soft over a low heat, do not brown. Add the ground cumin, coriander and paprika, cook for 30 seconds then leave to cool.
2 Place the pork mince into a large mixing bowl and season with salt and pepper. Tip in the cooled onion mixture, all of the mint, feta cheese and half of the chopped parsley. Mix well before forming into meatballs. Leave in the fridge until needed.
3 For the sauce you will need a large casserole dish, pan or wok (suitable for use on the hob). Cook the white onion in 1tbsp of the olive oil until it begins to soften, add 1 tbsp olive oil along with the aubergine and cook until the aubergine starts to soften and browns slightly.
4 Add cinnamon, green chilli and remaining garlic and cook for 2-3 minutes before adding the chickpeas, tinned tomatoes, black olives and vegetable stock. Simmer for 20 minutes, then season with salt and pepper. Fry the meatballs until browned all over then pop into the sauce and simmer for 10 minutes.
5 Prep a large bowl of cold water (with ice if possible) then bring a large pot of water to boil. Take the courgettes and simply shred with a peeler (or use a spiralizer) then add them to the boiling water in small batches. After 30 seconds, take the vegetables out of the water and place them in the cold water, then taste. Repeat this until they're cooked to your liking. Most vegetables take 2-3 minutes. Add the fresh oregano and remaining fresh parsley to the sauce and serve.