Mediterranean Pork Kebabs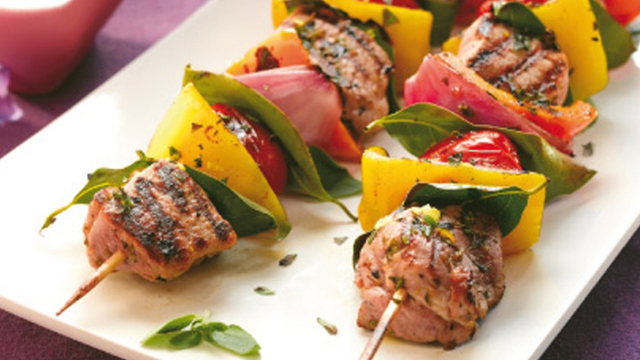 2 servings
30 mins to prepare
Ingredients
PLEASE ALLOW 30 MINUTES MARINATING TIME
500g pork fillet, cut into cubes
1 orange pepper, cut into 4cm pieces
1 yellow pepper, cut into 4cm pieces
2 red onions, quartered
8 Lancashire baby plum tomatoes
Bay leaves
Oregano – fresh or dried
Thyme – fresh or dried
Booths Spanish extra virgin olive oil
Juice of half a lemon, and a small amount of the zest
Instructions
Into a large bowl, place the pork, peppers, onions, (split the layers up a little) and the plum tomatoes. Then drizzle with olive oil, lemon juice and the zest and add a sprinkling of oregano and thyme, mix everything together until well coated.
Allow to marinade for at least half an hour, but longer is fine.
Starting with the pork, thread onto the skewers, then build up with orange pepper, onion, bay leaf, tomato, yellow pepper, bay leaf, onion, pork, then carry on like this until the skewers are full, ending with the pork, as this contracts onto the skewer and holds everything on, where vegetables can slide off!
Cook on the barbecue, or under a hot grill, for about 15-20 minutes, turning so the kebabs are evenly browned.
Whilst cooking mix the lemon zest into the yogurt, to make a zingy dressing.