Gourmet Beef Burger with Courgette Chips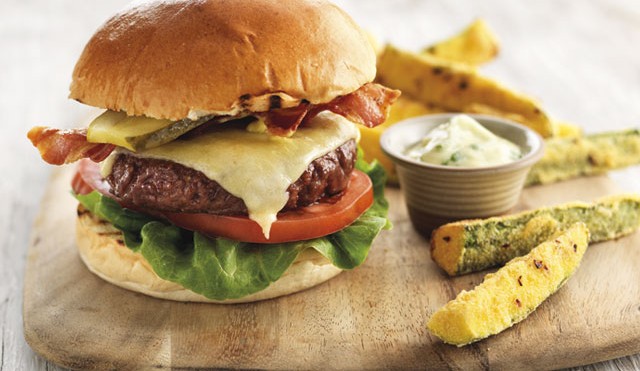 4 servings
50 minutes to prepare
Ingredients
FOR THE BURGER
400g Booths minced beef
1 medium onion, finely chopped
1 tbsp olive oil
1 garlic clove, crushed
3 thyme sprigs, (leaves only), finely chopped
1 medium egg
10g breadcrumbs
Salt and milled pepper
TO SERVE
4 Booths brioche buns
4 slices cheddar cheese
Heart of romaine lettuce
1 English beef tomato
4 rashers streaky bacon
2 tbsp mayonnaise
1tsp English mustard
Pickled gherkins
FOR THE COURGETTE CHIPS
2 large courgettes
80G plain flour
1 medium egg
2 tbsp milk
50g fine polenta
½ tsp chilli flakes
20g Parmesan cheese
500ml Sunflower oil for frying
TO SERVE
2 garlic cloves, crushed
3 tbsp mayonnaise
1 tbsp chopped parsley
Instructions
Method:
FOR THE BURGER
Gently fry the chopped onions in the olive oil for about 5 minutes until soft but not browned. Add the garlic and thyme, season with a little salt and milled pepper, then cook for a further minute. Spoon onto a plate and leave until cold.
In a large mixing bowl, mix the beef and cold onions. Break in the egg, season with salt and milled pepper and mix well. Stir in the breadcrumbs then divide into 4 balls and shape into a burger. Place the burgers onto a plate and put into the fridge for about an hour to firm up.
Cook the burgers either on a BBQ, a griddle pan or under a grill for 10-12 minutes, turning every so often. 1 minute before you're ready to serve the burgers, place a slice of cheddar cheese on top of each to melt. Try toasting the inside of the brioche bun for added flavour.
Serve the burger on the brioche bun with a bed of heart of romaine lettuce and sliced English beef tomato.
Top with crispy bacon, sliced gherkin and a dollop of mayonnaise, mixed with English mustard.
FOR THE COURGETTE CHIPS
Trim the ends of the courgette, slice in half lengthways and then in half across. Cut each half into 3 to create chunky chips.
Take 3 bowls; in one place 50g of the flour, in the second place the egg whisked with the milk and in the final bowl mix together the remaining flour, polenta, chilli flakes and Parmesan cheese. Add a little salt and milled pepper.
Toss the courgettes into the flour first, then the egg mixture and finally the polenta mix. Place onto a tray ready for cooking.
Heat the oil to 180°c. Cook the courgettes in batches until golden brown, drain on kitchen roll and serve whilst hot with garlic and parsley mayonnaise.
To make the mayonnaise simply mix the ingredients together with a teaspoon of warm water.