'Bluebell' Black Pudding Scotch Eggs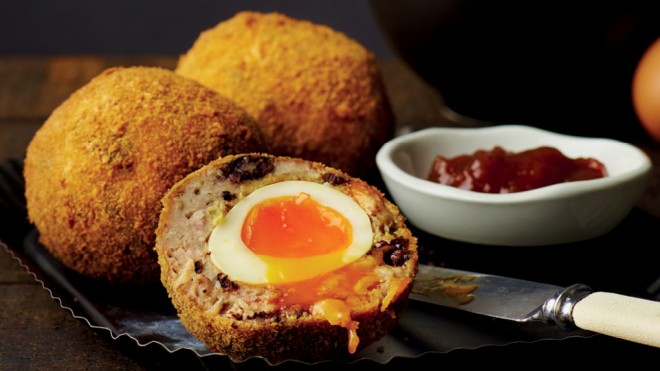 4 servings
1 Hour 10 Minutes to prepare
Ingredients
1/2 small onion
1tbsp olive oil
200g Booths sausage meat
100g good quality black pudding, diced finely
Pinch salt and pepper
4 medium eggs
100g fresh breadcrumbs
1 medium egg, beaten
50g plain flour
Instructions
This recipe for scotch eggs was created collectively by the Booths distribution team who are based at Bluebell Way in Preston and are made up of loaders, drivers, supervisors and managers. It was a huge hit in our office so we just had to share it with you.
1 Gently cook the onion in the oil until soft, but not coloured, then remove from the heat.
2 Place the sausage meat in a bowl and add the onion to it. Mix thoroughly.This is best done with your hands.
3 Fold the black pudding through the sausage mix, trying not to break it up, then season with salt and pepper.
4 Divide the mix into four equal portions and allow to rest in the fridge for 1 hour.
5 Place the eggs in boiling water for 5 minutes, remove and then cool in iced water for 2 minutes and peel.
6 Gently wrap each egg in a portion of the sausage and black pudding mix to form neat spheres.
7 Roll and coat each ball with flour, egg wash then breadcrumbs. We like to finish them in the oven at 180°C / fan 160°C / gas mark 4 for 20 minutes. Alternatively deep fry at 160-180°C / 310-350°F until cooked through (they should start floating).
Instead of black pudding why not try white pudding which provides a creamier flavour?