Coconut Meringue Wreath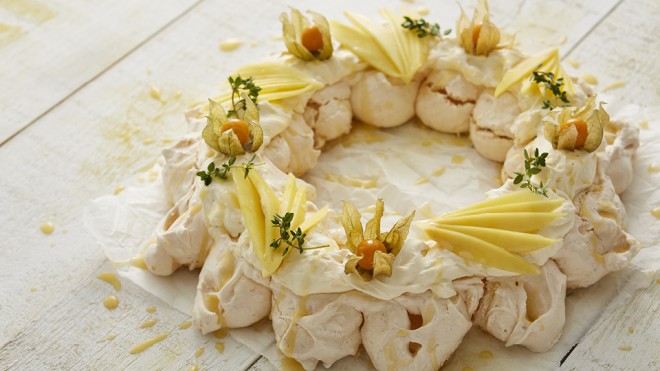 10 servings
4 hours to prepare
Ingredients
275g caster sugar
50g desiccated coconut
2tbsp lemon curd (plus extra for decorating)
coconut shavings (for decorating)
1 mango
5 physalis (for decorating)
lemon thyme (for decorating)
250ml whipping cream
5 egg whites
Instructions
1 Let's begin with the meringue. First pre heat the oven to 100°C (fan)/200°F/gas mark 1/2. Line a large baking tray with baking paper. Using a dinner plate approx 25cm diameter draw a circle onto the baking paper. Using a side plate approximately 20cm diameter draw a second smaller circle inside the first. Turn over the paper.
2 Whisk the egg whites in a clean grease free bowl to stiff peak stage.  In another bowl mix the caster sugar and desiccated coconut.
3 Slowly add the sugar and coconut mix to the egg whites 1 tbsp at a time, whisking constantly to create a stiff meringue.
4 Place large spoonfuls of meringue within your circle template to form a wreath shape. Using the back of a spoon create a channel all the way around in the centre of the wreath to hold the filling.
5 Bake for 1 hour 30 mins. Turn the oven off and leave the meringue in the oven for a further 2 hours. Remove and allow to cool completely.
6 To make the cream place the whipping cream and 2 tbsp of lemon curd into a large bowl. Whip them to soft peaks. Then spoon the cream into the channel all the way around the wreath.
7 To decorate slice the mango into fans and arrange on top of the cream. Drizzle over some more lemon curd.
8 Decorate with physalis, lemon thyme and coconut shavings.