Jerk Salmon & Pineapple Traybake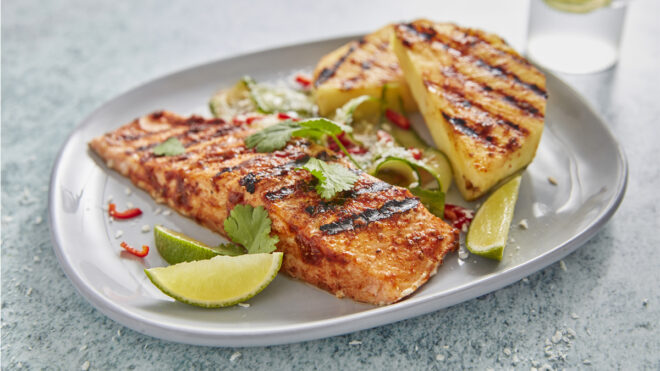 4 servings
15 mins to prepare
Ingredients
4 salmon fillets
1/2 fresh pineapple, peeled
1 tsp garlic granules
1 tsp smoked paprika
1/2 tsp cayenne pepper
1/2 tsp all spice
1/2 tsp dried thyme
1/4 tsp cinnamon
3 tbsp sweet chilli sauce
For the Salsa
1 cucumber
1 red chilli, finely sliced
1 lime, juice only
1 tbsp sweet chilli sauce
1 tbsp unsweetened desiccated coconut
A handful of coriander leaves
To Serve
8 lime wedges
Coriander leaves
Instructions
METHOD
For the Jerk Salmon
1. Mix the garlic granules, paprika, cayenne pepper, allspice, thyme, cinnamon and sweet chilli sauce in a small bowl and set to one side.
2. Pre-heat the oven to 180°C (fan)/ 200°C/400°F/gas mark 6.
3. Slice the pineapple into 4 rings and slice each ring in half. Place the salmon fillets and pineapple onto a baking tray. Brush with the prepared jerk paste and bake in the oven for 20 minutes.
For the Cocnut & Lime Salsa
4. Slice the cucumber into ribbons using a potato peeler and place in a bowl. Add the red chilli.
5. Mix the lime juice and sweet chilli sauce in a small bowl. Add to the cucumber ribbons and toss to combine.
6. Spoon into a serving bowl, scatter with the coconut and garnish with coriander leaves.
To Serve
7. Serve the jerk salmon and pineapple with lime wedges and garnish with extra coriander leaves.
Chef's Tip – You can make a batch of the dry jerk ingredients, store in a jar with a tight fitting lid ready to use on all your favourite meats. Chicken and steak work well. If you are in a hurry you can use store bought jerk rub seasoning.
If cooking this dish on the BBQ, cut the salmon and pineapple into cubes and thread onto skewers alternating salmon with pineapple. Brush with the jerk paste and BBQ until the salmon is cooked through.