Kale, Apple and Walnut Salad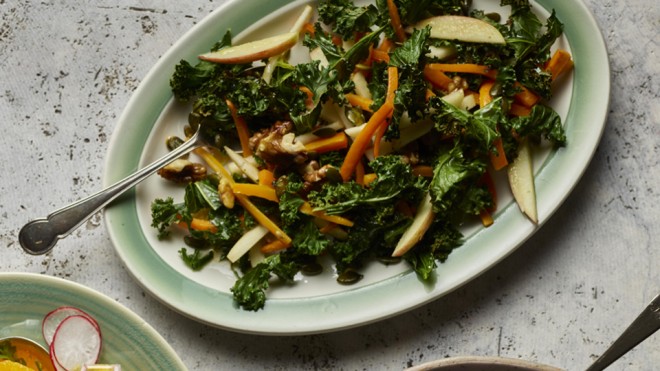 4 servings
25 minutes to prepare
Ingredients
2 large carrots, peeled and cut into 6cm batons
1tsp cumin seeds
2tbsp rapeseed oil
50g pumpkin seeds
50g walnuts
350g prepared curly kale
2 apples peeled, cored and cut into matchsticks
1tbsp cider vinegar
2tbsp extra virgin olive oil
Instructions
No buffet is complete without a fresh, zesty salad to add crunch and colour to the spread.  Perfect with cold roast beef and ham.
1 Preheat the oven to 180°C/Fan 160°C/gas mark 4. Place the carrots in a bowl and toss with the cumin seeds and rapeseed oil. Spread out on a large roasting tray and roast for five minutes then add the seeds and walnuts and roast for a further 2–3 minutes until toasted and golden.
2 Add the kale to the roasting tray and toss well with the carrots and seeds and roast for a further eight minutes until the kale is crispy.
3 Remove from the heat and toss in the apple. Whisk together the cider vinegar and extra virgin olive oil and drizzle over the salad, tossing together well. Season with a pinch of sea salt and ground black pepper.