Lamb Tagine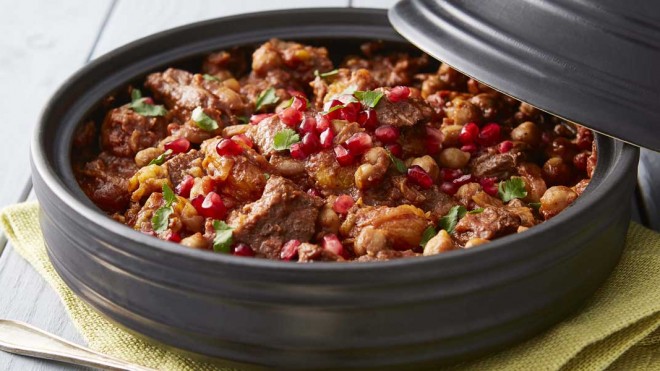 4 servings
1 hour 20 minutes to prepare
Ingredients
1tbsp oil
1 onion, sliced
1tbsp Ras-el-Hanout spice mix
1tbsp tomato puree
300g leftover roast lamb, diced
1 tin chopped tomatoes
500ml lamb stock
100g dried apricots
1 tin chickpeas, drained
1 preserved lemon, diced
1 cinnamon stick
To Serve
Cous cous
Booths Pomegranate Pearls
Coriander leaves
Instructions
Our version of a simple tagine is a tasty way to use up any leftover roast lamb you have.
Heat the oil in a medium sized sauce pan. Add the onions and sauté for 5 minutes.
Add the Ras-el-Hanout and cook for 1 minute.
Add the tomato puree and cook for 1 minute.
Add the diced lamb and chopped tomatoes, stir to combine.
Add the lamb stock, apricots, chickpeas, preserved lemon and cinnamon stick. Bring to a boil then reduce to a simmer. Simmer for 1 hour.
Pour into warmed serving bowls and scatter over the coriander leaves and pomegranate seeds. Serve with cous cous prepared as per instructions on the packet.
Chefs Tip
This recipe works really well with leftover roast chicken. Swap the apricots for prunes and serve with minted yoghurt for a quick and easy change.
Love your Leftovers
If you are going to store leftover roast to make this recipe, cool it as quickly as possible (ideally within 90 minutes) cover it and place into the fridge. Always use your leftovers within two days of storage. Ensure you cook this recipe until it's steaming hot throughout and importantly, never reheat leftovers more than once.
The optimum time and temperature varies by individual ovens – these are guidelines only. Please ensure all cooked recipes are served piping hot. Keep raw meat separate from cooked food. Use separate kitchen utensils and surfaces for raw and cooked foods, or wash thoroughly in between use. Wash hands after handling raw meat.
Some products may only be available in our larger stores. All content © Booths 2017.