Lancashire Hotpot Biryani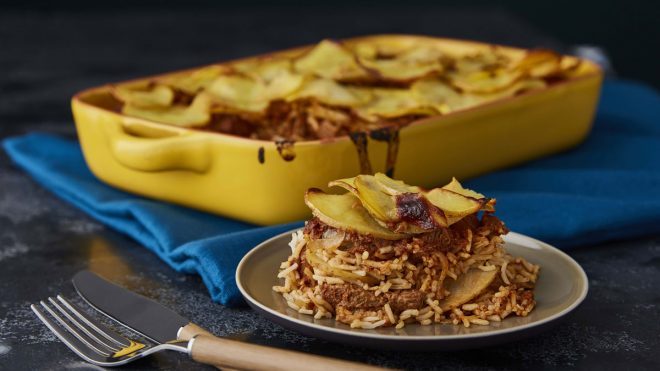 4 servings
30 minutes to cook, 30 minutes to prepare
Ingredients
4 large, waxy potatoes
I pack The Spice Tailor Rustic Rojan Josh
750g diced lamb leg steaks
3tbsp oil
2 large, white onions, finely sliced
350g basmati rice
100g melted butter
Salt & pepper
Instructions
For this layered up, biryani curry hotpot we've used a ready made Rogan Josh sauce for ease – feel free to make your own if you choose.
Method
Preheat the oven to 160c / 140c fan / 325f / gas mark 3, then move on to preparing the individual layers.
Peel and slice the potatoes into rounds (leave them unpeeled for a bit more of a rustic feel if you'd like to), the slices should be approximately 5mm thick.
Bring a pan of salted water to the boil, then parboil the potato slices for 5 minutes or so. Drain and set aside to dry off a little.
Cook The Spice Tailor rogan josh sauce with the lamb as per packet instructions, then set aside.
Pan fry the onions in the oil until caramelised and dark brown, but not burnt. Set aside.
Cook the basmati rice as per package instructions until light and fluffy.
Once you are ready to assemble the hotpot, butter an ovenproof dish that's deep enough to hold a few layers.
Layer each component in turn – lamb in the bottom, then rice, then onions, then potatoes and repeat if your dish allows it, finishing with the potato as the top layer.
Melt the butter and brush the top layer of potato with it so it will crisp up beautifully.
Pop into the oven for approx 30 minutes until cooked through and golden.
Chefs tip
Add a few cardomom pods, fennel seeds and finely sliced chilli to a frying pan and saute for a few minutes to release the natural oils. Gently mix through the rice before layering just to add a little more spice.
Feel free to add in some veggies of your choice to the lamb rogan josh mixture.