Veggie Picnic Parcels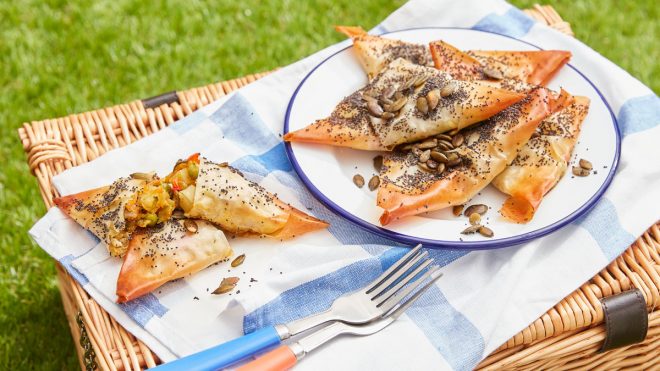 12 servings
40 minutes to prepare
Ingredients
Drizzle olive oil
1/2 onion, diced
1/2 potato, peeled & diced
25g frozen peas
1/2 red pepper, diced
1/2 courgette, grated
1/2 carrot, grated
1tbsp curry powder
1tsp salt
3 sheets filo pastry
50g butter, melted
2tbsp pumpkin seeds
1tbsp poppy seeds
Instructions
Perfect little veggie picnic parcels for a day out! If you have little ones that won't appreciate the curry powder, you can leave it out or flavour with seasonings of your choice.
Method
Pre-heat the oven to 180°C (fan)/400°F/gas mark 6.
Heat a drizzle of olive oil in a saucepan over a medium heat.
Add the onion and potato, sauté for 5 minutes.
Add the remaining ingredients and sauté for 8 minutes. Set to one side and allow to cool for 5 minutes.
To make the parcels, working with one sheet of filo at a time, cut each sheet into 4 to create 4 strips of pastry. Working with one pastry strip at a time, brush with melted butter.
Spoon 2 teaspoons of mixture onto the top right-hand corner of the pastry strip. Fold the pastry over at an angle to create a triangle shape. Continue to fold along the length of the pastry until you reach the bottom. Trim away any excess pastry and place seam side down on a baking tray lined with baking paper. Repeat to use all of the pastry strips.
Brush each parcel with melted butter and decorate with pumpkin seeds and poppy seeds.
Bake in a pre-heated oven for 20 minutes or until golden brown a crisp.
Chefs Tip
To prevent the filo pastry drying out cover the pastry sheets with a damp tea towel whilst you are shaping the parcels. This will help prevent the pastry drying and cracking.