Carrot Cake Flapjack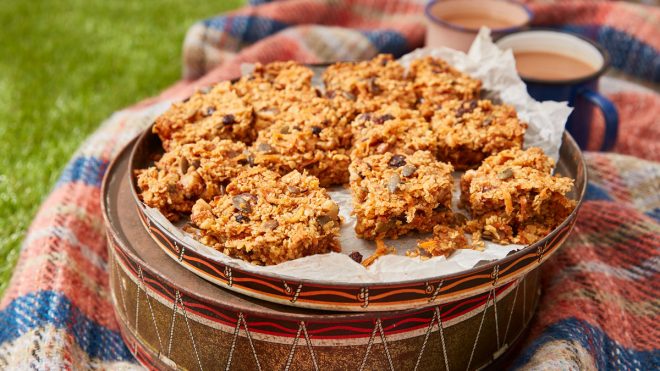 12 servings
45 minutes to prepare
Ingredients
125g butter
125g caster sugar
3tbsp golden syrup
250g oats
2 carrots, grated
1tsp cinnamon (or more if you prefer!)
50g raisins
50g walnuts
50g pumpkin seeds
Instructions
These gorgeous carrot cake flapjacks are a simple twist on a classic flapjack recipe perfect for a picnic. You could add a yoghurt or cream cheese icing.
Method
Pre-heat the oven to 180°C (fan)/400°F/gas mark 6. Line a 20x20cm tin with baking paper.
Place the butter, sugar and golden syrup into a saucepan. Gently warm over a medium heat to melt.
Place the remaining ingredients into a mixing bowl and stir to combine.
Pour the melted mixture over the dry and stir well to evenly coat.
Tip into the prepared tin and press into the tin using the back of a spoon.
Bake in a pre-heated oven for 30-35 minutes or until golden brown. Allow to cool before slicing into squares.
Chefs Tip
You can use half courgette and half carrot in this recipe, perfect for using up a glut of courgettes from the garden!