Lemon Drizzle Cake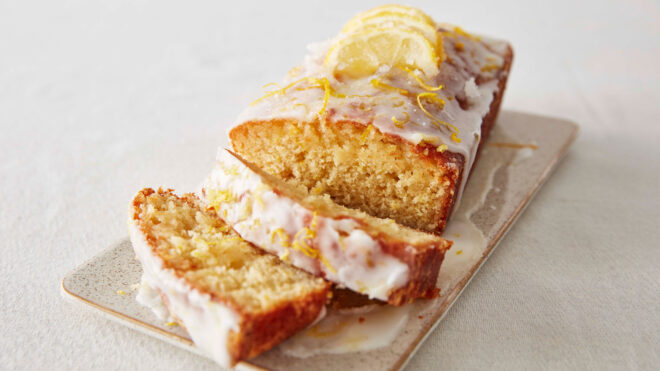 8 servings
20 minutes to prepare
Ingredients
100g unsalted butter, softened, plus extra for greasing
150g golden caster sugar
2 eggs, lightly beaten
150g self raising flour
3tbsp whole milk
3 lemons, zest and juice
50g granulated sugar
100g icing sugar
Instructions
Method
Preheat the oven to 180°C/160°Fan/350°F/Gas Mark 4.
Grease and line a 900g loaf tin with baking parchment.
In a bowl, cream together the butter and caster sugar for 3-4 minutes until fluffy and very pale. Beat in the eggs, then sift in the flour and mix well to combine. Stir in the milk and lemon zest.
Spoon the mixture into the prepared loaf tin and bake for about 45 minutes until a skewer inserted into the centre of the cake comes out clean.
Ten minutes before the cake is cooked through, prepare the lemon drizzle. Reserve 1tbsp of lemon juice for the icing and heat the rest of the lemon juice and granulated sugar in a pan until the sugar has dissolved, then set aside.
Remove the cake from the oven and, while still hot and in its tin, prick the surface all over with a skewer. Drizzle over the hot lemon syrup, then leave the cake to cool completely in the tin.
Mix the icing sugar and reserved lemon juice in a bowl to make the icing and drizzle over the cake.
Chefs tip:
You can adjust the lemon to your own taste. You may only want to use 2 lemons as this is a wonderfully zesty cake for lemon lovers.