Malted Milk Marbled Biscuits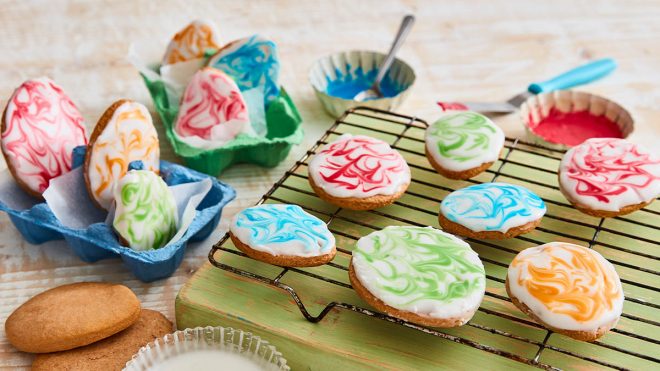 16 servings
40 minutes to prepare
Ingredients
For the biscuits
60g butter, softened
50g caster sugar
1 egg yolk
25g Ovaltine
190g self raising flour
3 tbsp milk
Flour for dusting
For the icing
300g icing sugar
4 different food colourings
Instructions
METHOD:
To make the biscuits, cream the butter and sugar until light and fluffy, add the egg yolk and mix well.
Add the Ovaltine and flour, mix to combine.
Add the milk and bring the dough together to form a ball.
Wrap the dough in clingfilm and chill for 30 minutes.
Pre-heat the oven to 160°C (fan) / 180°C / 350°F / gas mark 4.
Lightly flour a work surface and roll the dough to the thickness of a pound coin. Use an egg shaped or round cutter to cut your biscuits, re-rolling the dough as necessary.
Place the biscuits onto baking trays lined with baking paper and bake in the pre-heated oven for 12-15 minutes until lightly golden in colour.
Remove from the oven and allow to cool on the tray before placing onto cooling racks to cool completely.
To make the icing, place the icing sugar into a bowl. Add 4 tablespoons of boiling water and mix until smooth. Keep 1 bowl of plain icing and then spoon ½ tablespoon of icing into 4 other bowls and add a couple of drops of food colouring to colour each bowl of icing.
To decorate, spoon a teaspoon of plain icing onto each biscuit, spread over the biscuit then dip a cocktail stick into a coloured icing and swirl to create a marbled pattern.