Sprinkle Chocolate Pockets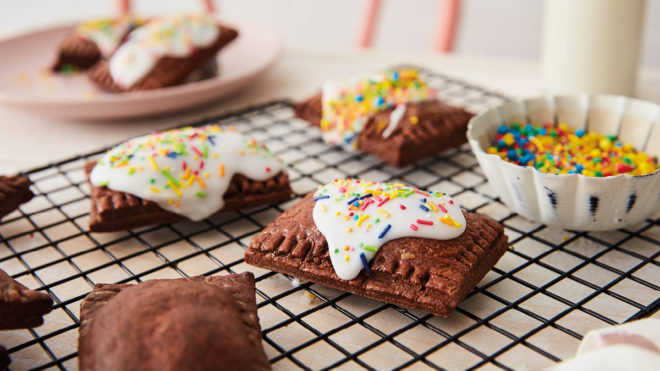 12 servings
1hr 15 mins to prepare
Ingredients
280g plain flour
20g cocoa powder
25g caster sugar
1 pinch of salt
230g unsalted butter, cold and cubed
120ml cold milk
1 broken up chocolate bar
1 egg, for egg wash
To Decorate
200g icing sugar
1-2 tsp water
Colourful Sprinkles
Instructions
METHOD
1 Pre-heat the oven to 180ºC. Add the dry ingredients and butter into a food processor, pulse until a crumb is formed. Then slowly add the milk and pulse until the mixture comes together.
2 Tip the dough onto a lightly floured surface and roll into a ball, then divide in half. Wrap in cling film and refrigerate for 1 hour.
3 On a floured surface roll out the chilled dough to just under 1 cm thick. Cut out rectangles approx. 10 x 6 cm in size. Repeat until you have used up all the dough.
4 Arrange half of the rectangles onto a lined baking tray. Add some of the broken chocolate into the middle of each rectangle leaving a 1 cm border. Then egg wash the border and top with another rectangle.
5 Use a fork to crimp the sides to seal, then brush egg wash on each pocket. Bake for 15 minutes.
6 To make the icing, mix together the icing sugar and water gradually until it forms a smooth paste.
7 Remove from oven and cool for 5 minutes on a wire rack before adding the icing and sprinkles.