Mexican Style Mini Potato Skins (Vegan)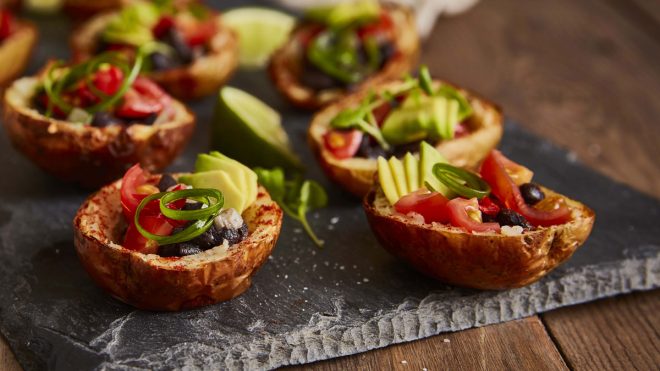 6 servings
1 hour to prepare
Ingredients
30ml olive oil
15g smoked paprika
1 avocado
75g black beans
6 cherry tomatoes
1/2tsp hot chilli powder
1 pack fresh coriander
Sea salt
1 garlic clove
1 bag Charlotte potatoes
2 spring onions
1 fresh lime, juice only
Instructions
These Mexican inspired mini potato skins make for a great canape or nibble at any party and are suitable for vegans and vegetarians.
Pre heat the oven 180c / 350f / gas mark 4.
Place the potatoes onto a baking tray and bake for 35 mins or until cooked. Remove and leave to cool.
Chop the garlic, add a little oil to a pan then lightly fry the garlic for a minute or so. Add the black beans, shallots; smoked paprika and chilli powder mix thoroughly. Cook until the beans are piping hot.
Halve the potatoes, remove the cooked potato from the skin and mix into the bean mixture.
Fill the potato skins with the bean mix, then garnish with chopped cherry tomatoes, spring onion, chillis, avocado and fresh coriander. Serve with a squeeze of fresh lime.
The optimum time and temperature varies by individual ovens – these are guidelines only. Please ensure all cooked recipes are served piping hot. Use separate kitchen utensils and surfaces for raw and cooked foods, or wash thoroughly in between use. Some products may only be available in our larger stores. All content © Booths 2017.