Warming Jacket Potato with Chilli Con Carne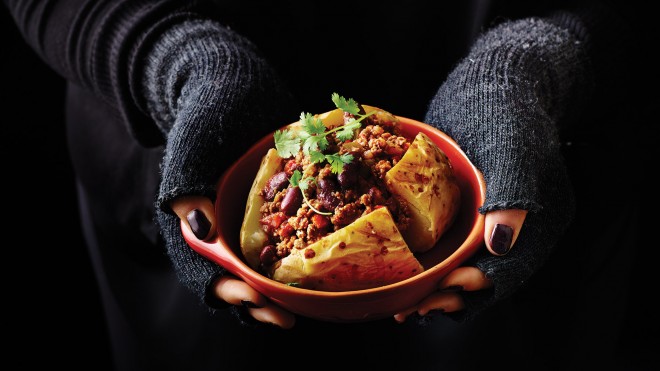 4 servings
55 minutes to prepare
Ingredients
4 baking potatoes
FOR THE CHILLI FILLING
2 tbsp olive oil
1 onion, finely chopped
2 cloves garlic, finely chopped
1 tbsp hot chilli powder
400g minced beef
1 red pepper, halved, de-seeded and diced
1 green pepper, halved, de-seeded and diced
2 tbsp tomato puree
400g can chopped tomatoes
400g kidney beans, drained
Handful chopped fresh coriander
Instructions
1 Pre-heat the oven to 200°C / fan 180°C / gas mark 6. Pierce the potatoes with a fork all over and then place on the rack in the middle of the oven and bake for 1 hour until golden and crispy and the potatoes are soft.
2 Meanwhile, heat the oil in a large saucepan and cook the onion for a few minutes until beginning to soften then stir in the garlic and cook for a minute longer. Add the chilli powder and cook for just a minute.
3 Stir in the minced beef and brown all over then add the peppers and cook for about 2 minutes.
4 Stir in the tomato purée and cook for 1 minute then finally add the chopped tomatoes, half a can of water and bring to a simmer. Cook for 30 – 40 minutes then stir in the kidney beans and fresh coriander. Split open the baked potatoes and ladle over the chilli to serve.