Mini Pancake Bites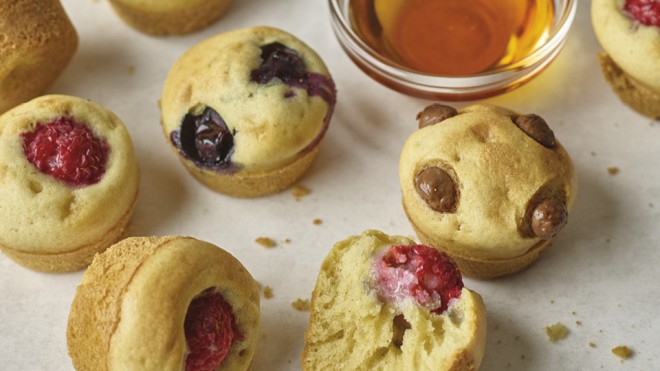 12 servings
20 minutes to prepare
Ingredients
Vegetable oil, for greasing
125g plain flour
1/2tsp baking powder
1/4tsp bicarbonate of soda
2tbsp caster sugar
1 large free range egg
60ml milk
2tbsp maple syrup
25g butter, melted
Filling Options
Pack chocolate chips
Punnet blueberries
Punnet raspberries
To Serve
Maple syrup
Instructions
1 Preheat the oven to 180°C / fan 160°C / gas mark 4. Grease a 12 hole mini muffin tin lightly with a little vegetable oil.  Place the flour, baking powder, bicarbonate of soda and sugar in a bowl. Crack the egg into a jug and whisk with the milk, maple syrup and melted butter. Pour this egg mixture into the flour mixture and whisk in well until you have a smooth, thickened batter.
2 Fill each mini muffin hole a third full with the mixture.  Decorate the top of your mini pancake bites with your chosen topping by pushing the chocolate chips/ berries into the mixture.
3 Bake for 10 minutes until golden and puffed up. Tip out and serve warm with maple syrup for dipping into.