Mini Pesto & Roast Pepper Palmiers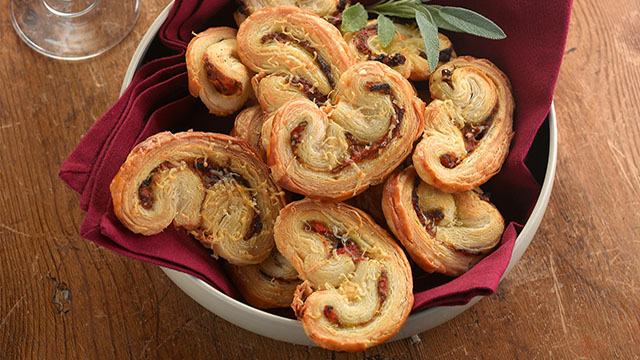 7 servings
45 minutes to prepare
Ingredients
1 packet of chilled puff pastry
3tbsp of pesto
1 red pepper
1tsp of olive oil
Sprinkling of parmesan cheese
1 egg yolk mixed with 25ml of milk
Instructions
Pre-heat the oven to 190°c / gas mark 5.
Rub the red pepper all over with the olive oil and place in a small roasting tray. Cook until the skin has charred then pop into a freezer bag and leave to cool.
Once cooled, peel off the charred skin and de-seed then chop into small pieces and mix into the pesto.
Then roll out the puff pastry on a floured surface into a rectangle 18cm x 40cm and about 4mm thick. You can trim the pastry to form the shape once rolled. Spread the pesto onto the puff pastry evenly. Roll one long side of the pastry to the middle gently rolling it on itself and repeat with the other side.
Brush where the pastry meets in the middle with a little of the egg yolk and press together. Wrap in cling film and pop into the fridge for 20 minutes to set.
Once set, unwrap the pastry and brush with egg, then cut into 1cm pieces and bake for 10-12 minutes leaving a little space between each as they will expand.
Serve whilst warm with a sprinkling of parmesan cheese.