'Bonfire Banger' Sausage Rockets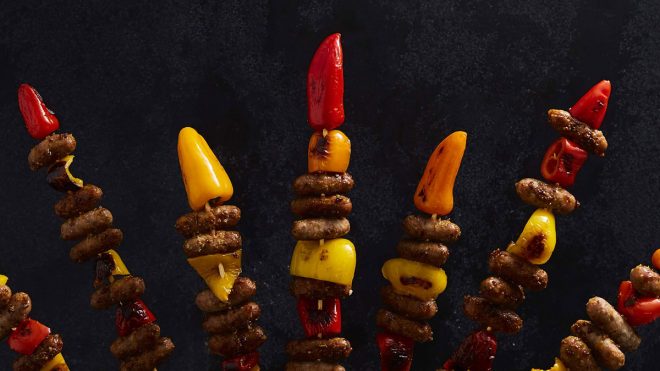 4 servings
25 minutes to cook, 20 minutes to prepare
Ingredients
4 long BBQ bamboo skewers
4 assorted colour peppers
16 assorted flavour and size sausages, be as adventurous as you like!
Optional Glaze
2tbsp honey
1tbsp wholegrain mustard
1tsp sesame seeds
Instructions
A fun and creative way to enjoy sausage skewers this bonfire night.
Method
Preheat the oven to 190c/170c fan/ 375f / gas mark 5.
Unpack the sausages and lay them out onto an ovenproof tray or dish.
Pop them into the oven for 20-25 minutes, turning about halfway through the cooking time, until golden brown and delicious looking.
While the sausages are cooking, de-seed and chop up the peppers into bitesize chunks, taking care to cut four into a rocket shaped point for the very top of the skewers. Feel free to vary the colour, shape and size a little.
Heat a little oil in a clean frying pan and sauté the peppers until they're cooked through with a little bit of bite (you don't want them too soft) and have some nice brown char on them.
Cut the sausages into chunks and various shapes, then thread them onto the skewers, alternating with the chunks of pepper.
Keep going until the skewer is full, leaving room to top it off the rocket shaped pepper at the very top.
You can make the glaze below into a dip if you wish just by mixing the ingredients together into a bowl.
Chefs Tip
Glaze the sausages with a mixture of honey and mustard approximately halfway through the cooking time, then finish with a sprinkle of sesame seeds.