Moroccan Chickpea & Lentil Soup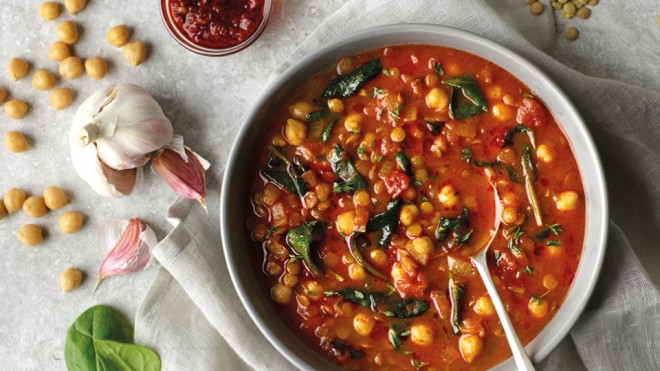 4 servings
30 Minutes to prepare
Ingredients
2tbsp rapeseed oil
1 onion, finely chopped
2 cloves garlic, finely chopped
1tsp ground cumin
3tsp Harissa paste
1tsp honey or maple syrup
2tbsp fresh chopped thyme
150g dried lentils
400g can chickpeas, drained
400g can chopped tomatoes
750ml vegetable stock
75g spinach leaves
Instructions
1 Heat the oil in a large saucepan and gently cook the onion for about 5 minutes until beginning to soften. Stir in the garlic and cumin and cook for a further minute. Stir in the Harissa paste, honey or maple syrup and thyme then cook for another minute.
2 Stir in the lentils, chickpeas, tomatoes and stock and cook
for 20 minutes until the lentils are fully cooked.
3 Finally add the spinach and stir through until wilted. Serve with sourdough toast, drizzled with extra Harissa if desired.