Mulled Spiced Beef Ragu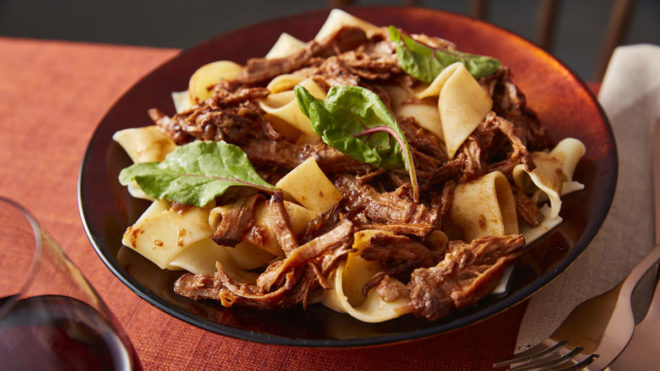 8 servings
3 hours 35 minutes to prepare
Ingredients
2tbsp olive oil
1.5kg beef brisket, cut into 4 pieces
2 red onions, sliced
3 cloves garlic, sliced
135g tomato puree
1tbsp plain flour
750ml mulled wine
500ml beef stock
2tbsp redcurrant jelly
5 star anise
5 cloves
2 cinnamon sticks
Salt & pepper
Instructions
Our mulled spiced beef ragu is the perfect festive dish to feed a crowd.
Method
Pre-heat the oven to 180°C (fan)/400°F/gas mark 6.
Heat one tablespoon of oil in a large oven proof casserole dish over a medium heat. Brown the beef for 5 minutes each side in the casserole. Remove and set to one side. You may need to do this in batches.
Add the remaining tablespoon of oil to the casserole. Add the sliced onions and sauté for 5 minutes.
Add the garlic and cook for 1 minute. Add the tomato puree and flour, cook for a further minute.
Add the mulled wine and bring to the boil.
Add the beef stock, red currant jelly and spices. Reduce to a simmer, place a lid on the casserole dish and cook in a pre-heated oven for 3 hours.
Once cooked, remove the whole spices and season with salt and pepper. Using two forks shred the beef into the sauce.
Serve with pappardelle pasta and garnish with beetroot leaves.