Beef Casserole with Chestnuts, Mushrooms & Winter Spice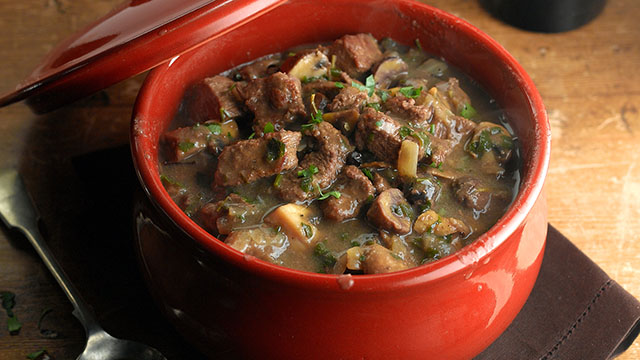 6 servings
120 minutes to prepare
Ingredients
2 medium onions, roughly chopped
2 garlic cloves, peeled and sliced
800g braising steak, cut into bite-sized chunks
50g seasoned flour
3tbsp olive oil
1ltr beef stock
75ml port
1-2tbsp red currant jelly
25g dried porcini mushrooms
200g chestnuts, fresh or prepack, roughly chopped
2 bay leaves
5 juniper berries
¼tsp grated nutmeg
2 sprigs each of fresh thyme and rosemary
Chopped flat leaf parsley
Instructions
Start by mixing the seasoned flour with a pinch of the nutmeg and coat the beef, shaking off any excess, reserving the left over flour.
Then heat a large frying pan with 2 tbsp of olive oil and fry the beef in two batches until browned all over and transfer to the casserole dish.
In the same pan, fry the onions in the remaining tablespoon of olive oil just until they begin to brown, then add the garlic and fry for one more minute before adding the port, then transfer to the casserole dish.
Stir in any leftover flour and then pour in the beef stock. Add the thyme, rosemary,
bay leaves, dried porcini mushrooms and juniper berries and bring to a boil then reduce the heat to a simmer.
After about one hour, add the porcini mushrooms, chestnuts and red currant jelly then continue to simmer for a further 30 minutes until the meat becomes lovely and tender.
Finally, sprinkle with freshly chopped parsley before serving.