Yorkshire Wrap with Beef & Horseradish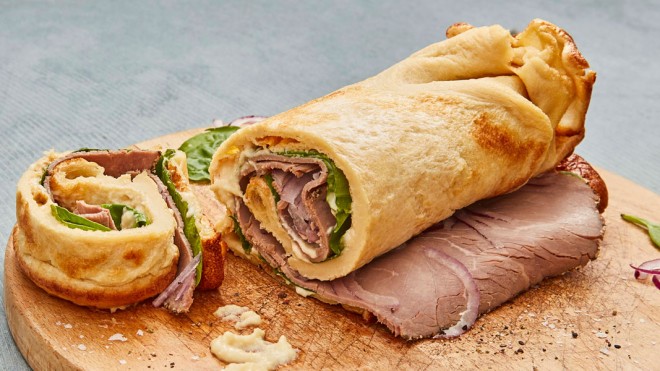 2 servings
30 minutes to prepare
Ingredients
140g plain flour
200ml milk
4 eggs
Sunflower oil
4 slices of Booths peppered roast beef
2-3tsp Booths horseradish
1/2 small red onion, sliced
Handful baby spinach
Instructions
A classic Yorkshire pudding made into a wrap! Perfect hot or cold.
METHOD:
Heat the oven to 210°c / 410°f / gas mark 8 and drizzle a little sunflower oil in a non stick baking tray and place in the oven to heat.
For the batter, put the flour into a bowl and beat in the eggs one at a time until smooth, then gradually whisk in the milk until completely lump free. Season and pour into a jug.
Remove the baking tray from the oven and carefully pour the batter into the tray. Immediately put the tray back into the oven and cook for about 20-25 minutes until the pudding has puffed up and browned.
Remove the pudding, and whilst hot, spread the horseradish over the top evenly. Layer on the sliced beef and onions plus a hand full of baby spinach. Roll it up and slice to serve or just dig in!
Chef's Tip:
Make sure your baking tray is properly pre-heated and the oil is very hot to make the Yorkshire. This recipe is perfect for a picnic as it can be enjoyed hot or cold – why not try ham and mustard filling too?