Herb Crusted Fillet of Beef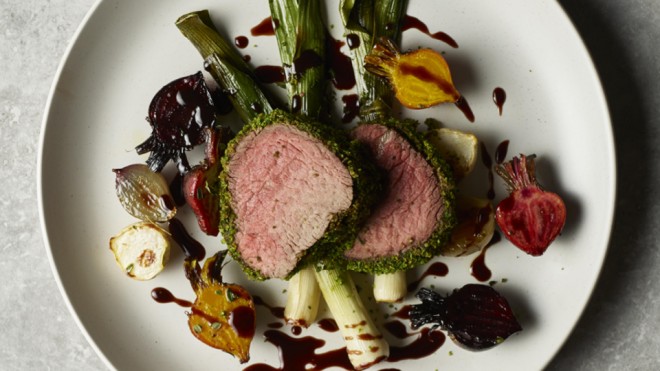 4 servings
55 minutes to prepare
Ingredients
1.5kg fillet of beef
3tbsp olive oil
50g mixed herbs, such as mint, rosemary, flat leaf parsley and thyme
50g breadcrumbs
1tbsp dijon mustard
12 shallots, peeled
300g baby beetroot or turnips, halved
200g baby leeks
3 sprigs fresh thyme, roughly chopped
400ml red wine
2tbsp redcurrant jelly
Instructions
This impressive-looking dish is actually really achievable and straightforward. When you are dealing with a beautiful cut of beef, it needs only the simplest cooking.
1 Remove the beef from the fridge at least two hours before cooking to let it come to room temperature.
2 Preheat the oven to 200°C/fan 180C/gas mark 6. Season the beef with a pinch of sea salt and ground black pepper. Heat two tablespoons of the oil in a large frying pan and brown the beef all over. Set aside.
3 Place the herbs and breadcrumbs in a food processor and blitz until you have a fine herby breadcrumb mixture. Lay a sheet of parchment paper on the work surface and spread the breadcrumb mixture over the paper.
4 Spread the Dijon mustard all over the beef fillet, then roll in the herb and breadcrumb mixture until the beef is coated. Place the beef in a roasting tin along with the shallots, beetroot, turnips and baby leeks and scatter over the fresh thyme. Drizzle with the remaining oil and then roast for 25–30 minutes until medium-rare or 5–8 minutes longer if you prefer your beef well-done.
5 Meanwhile, heat the frying pan you have just cooked the beef in and pour in the red wine and redcurrant jelly. Simmer for 15 minutes until reduced and sticky.
6 Remove the beef from the roasting tin onto a carving board and leave to rest before slicing. Serve with the roasted vegetables and the red wine sauce.