Roast Topside of Beef with Pink Peppercorn Crust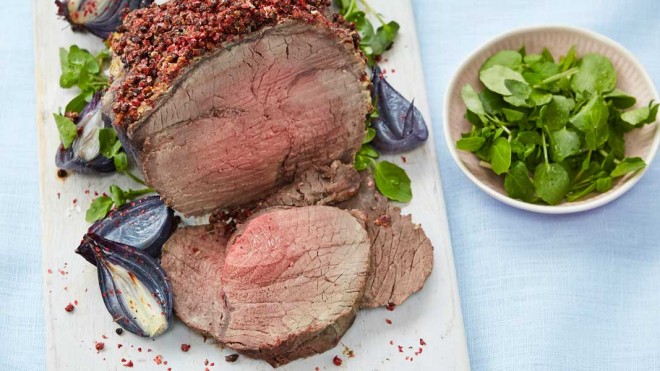 4 servings
1 hour 25 minutes to prepare
Ingredients
20g pink peppercorns
1tsp seasalt
1tbsp dijon mustard
1kg topside beef joint
3 red onions, peeled and quartered
Drizzle of olive oil
Instructions
A simple yet impressive way to prepare a roast beef joint, whether you prefer it medium, rare or well done.
Pre-heat the oven to 200°C (fan)/425°F/gas mark 7.
Lightly crush the pink peppercorns and sea salt using a pestle and mortar.
Place the beef joint into a roasting dish. Brush the top of the beef with the Dijon mustard and scatter over the crushed pink peppercorn mix.
Roast the joint in the pre-heated oven for 20 minutes.
After 20 minutes turn the oven down to 160°C (fan)/350°F/gas mark 4, add the quartered onions to the base of the roasting tin and drizzle the onions with olive oil. Roast for 45 minutes for medium rare beef.
Remove from the oven, allow to rest for at least 15 minutes before carving.
Chef's Tip
This rub can be used for steaks, a great twist for BBQ season. Remember to remove your joint of beef from the refrigerator 30 minutes before cooking.
General guide to topside of beef joint cooking times – this is a guide only and for best results use a meat thermometer.
As a rule of thumb after cooking your joint at 200°C (fan)/425°F/gas mark 7 for 20 minutes, turn the oven down to 160°C (fan)/350°F/gas mark 4 and roast for;
15 minutes per 450g/1lb for rare beef
20 minutes per 450g/1lb for medium beef
25 minutes per 450g/1lb for well-done beef
Love your Leftovers – try our beef rolls recipe
If you are going to store leftover roast, cool it as quickly as possible (ideally within 90 minutes) cover it and place into the fridge. Always use your leftovers within two days of storage. Ensure you cook any leftovers recipe until it's steaming hot throughout and importantly, never reheat leftovers more than once.
The optimum time and temperature varies by individual ovens – these are guidelines only. Please ensure all cooked recipes are served piping hot. Keep raw meat separate from cooked food. Use separate kitchen utensils and surfaces for raw and cooked foods, or wash thoroughly in between use. Wash hands after handling raw meat. 
Some products may only be available in our larger stores. All content © Booths 2017.