Orange, Red Chicory and Radish Salad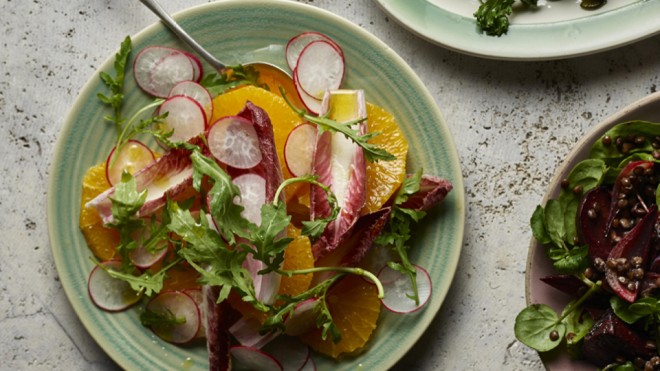 4 servings
10 minutes to prepare
Ingredients
3 medium oranges
4 heads red chicory, separated into leaves
100g rocket leaves
1 bunch radish, topped and tailed and sliced thinly
For the dressing
2tbsp olive oil
1tbsp balsamic vinegar
Sea salt and black pepper
Instructions
A light refreshing salad, delicious with fish such as salmon and smoked mackerel.
1 Peel the oranges with a sharp knife removing all the white pith, then cut into 1cm thick rounds and arrange on a serving plate or platter.
2 Scatter over the chicory, rocket and finely sliced radish. Whisk together the olive oil and balsamic vinegar, then season with a pinch of sea salt and a little ground black pepper. Drizzle over the top to finish.