Ossobuco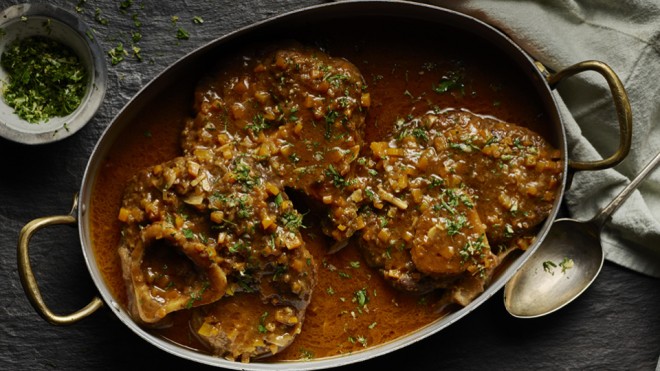 4 servings
1 hour 45 minutes to prepare
Ingredients
For the veal
4 cross cut veal shin, complete with marrow
25g plain flour
2tbsp olive oil
30g butter
1 small onion, finely chopped
1 small celery stick, finely diced
1 carrot, finely diced
2 cloves garlic, sliced
Glass dry white wine
100ml passata
300ml hot chicken stock
For the gremolata
1 lemon, zest only
1 clove garlic, finely chopped
1tbsp flat leaf parsley, finely chopped
Instructions
Ossobuco is a classic Milanese speciality is made by slowly stewing cross-cut veal shin, then topping them with lemon, herbs and garlic. The combination of melting meat, rich bone marrow and zesty seasoning is truly memorable.
1 Place the flour in a shallow dish and season with a pinch of salt and ground black pepper. Coat the veal shin pieces in the seasoned flour. Heat the oil in a large casserole dish, add the meat and brown on all sides. Set aside.
2 Turn the heat right down and add the butter, when melted, tip in the onion, celery and carrot plus a little salt and cook for about five minutes until softened. Add the garlic and cook for just a minute.
3 Turn up the heat and add the wine and simmer rapidly until reduced a little. Pour in the passata and the stock and bubble for just a few minutes. Return the meat to the pan and cover and simmer on a very gentle heat for 1.5 hours carefully turning the meat every 30 minutes.
4 Meanwhile mix together the gremolata ingredients in a small bowl.
5 Serve the veal sprinkled with the gremolata and with an accompaniment of either risotto, polenta or creamy mashed potato.